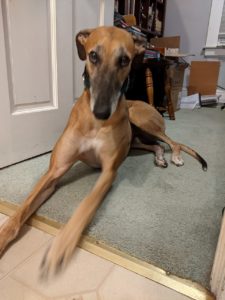 She was such a skittish, skinny little thing when we got her around two and a half years old, having spent her entire life not more than six months in any one place with any particular people. It took her a while to relax around us and let her goofball personality show from behind the veil of stubborn stoicism. Right now, she's napping in a sunny patch and waiting for the work day to be done so she can collect her due allocation of skritches and get her walkies in. So that's all right.
Oh, right, webcomics.
Subscribers to The Nib, the folks that get the magazine 3-4 times a year, you're going to want to check your email and maybe your spam folder. They've sent you a message that you get to give away one copy of The Nib's Pandemic issue (in print form, no less!) to somebody that you think would appreciate it. The instructions are in the email that went out to you this morning; me, most of the people I know are already subscribers or contributors to The Nib, so I'm not sure who to give it to.

Let's do a contest, then. Send me an email with the subject FREE MAGAZINE to me (that would be gary) at the name of this-here website (fleen), which is a dot-com, and I'll choose one of you at random to get the issue, a US$15 value and probably the best done by the lauded group of contributors. Let's make the deadline … 11:59pm MST on Sunday, 28 February, the last moment before my evil twin sees his birthday skipped over because he's a Leap Year Baby.

You have to make yourself a promise, though — if you enter the giveaway, you have to ask yourself if you should be a subscriber, or at least buy some stuff from The Nib's retail operation to help support their mission — to find the best cartoonists in the world and pay them properly for their best work.

I wrote a while back about Shing Yin Khor and Jeeyon Shim were Kickstarting an interactive game, with prompts to be delivered by email (and physical ephemera sent to high-tier backers), under the title of A Field Guide To Memory. I hadn't mentioned that the Kickstarter overfunded, that other creators were brought in (and paid!) to enrich the story, and that gameplay had started.

With today's email, we're about two-thirds of the way through a deeply personal, deeply weird, and somewhat unsettling tale, wherein you adopt the persona of a scientific researcher whose mentor — cryptid field evolutionary scientist Elizabeth Lee — has been declared dead after going missing five years ago on a research trip. I have, for the past two and a half weeks, found myself bound up in my personal history with a woman that I never met, who never existed, who may or may not have definitively proved the existence of Dipodomys antilocapra, the Pronghorned Desert Rat.

I have dug up memories of my own life and that of my in-game equivalent (who is looking for the evolutionary descendants of pterosaurs — they're out there still, dammit, just like the coelacanth!) and at times been unable to separate them. The game has you write letters and journal entries, keep field notes related to Dr Lee's work, research animal track patterns and bird calls, dredge up anger and betrayal, and possibly mentor members of the Little Citizen Scientists Club. I will not tell you how to play the game, as it's highly individualized and therefore there is no right way to play, but I will say this: if given the opportunity, if you are in future days passed a PDF of gameplay prompts (or even physical artifacts like D. antilocapra antler casts) and you come across an email address?

It works. Send the email. The only thing that isn't real, as near as I can tell, is the address shown for the Institute for Theoretical Evolutions in Bethesda, Maryland. The Pronghorned Desert Rat, the other cryptids, the bureaucrats keeping you from Dr Lee's notes and artifacts, the letters from her students and colleagues and lovers? All real, every bit of it, even the parts that are fiction. Especially the parts that are fiction.

If you'd like to learn more — and perhaps end up with more questions than answers — search the hashtag #FieldGuideToMemory. If nothing else, you'll see some breathtaking photos of the very lovely artifacts that players are creating as we delve into mystery and self-revelation at a rate of one prompt per day for 20 days.
Okay, have a great rest of the day, and tell the doggo(s) in your life that they are very good dogs because they're all very good dogs.
---
Spam of the day:
I tried to find you on google maps, but I couldn't,
STAY THE HELL AWAY FROM MY HOUSE, YOU FREAK.