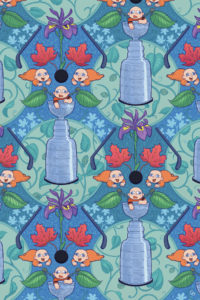 It is today, roughly, 350 days since New Jersey went into lockdown. Today is, roughly, the 366th day of March, 2020, the Fimbulmarch, which will run for another two years and then end in Ragnarökövid. As far as unending tedium and hiding in the house venturing out in the killer environment only in times of great need to obtain sustenance goes, it could be worse. I mean, there's lots to binge on streaming at least.
And, this being the nominal first week of the neverending month, there's some [web]comics events you might want to keep an eye on.
Know who's awesome? Gale Galligan, who had one of the biggest how do I follow that opening act? high-wire travails ever, taking over the Baby-Sitters Club graphic novel adaptations from Raina Telgemeier and all¹. She's working on her own original graphic novel now, as well as another project that finished around March 240th that was a little bit more important, all of which are wonderful. She's also been to Bunny Island and survived.

Know who else is awesome? Ngozi Ukazu, who had a very big couple of years before and during the Inifinte March, what with the release of the :01 Books collected editions of Check, Please!, which are just delightful². She's been working on her next project, as well as dropping some primo cartoons into The New Yorker and the Tweet Machine.

Know what's particularly awesome? Galligan and Ukazu are both serious about promoting the interests and skills of younger cartoonist, those who will someday be their peers. Galligan's been mentoring since the Before Times, and the pair of them joined forces to promote transparency into page rates. And they're teaming up again to offer two free workshops on comic making:

COMICS WORKSHOPS!
Howdy! @robochai and I are offering two workshops covering fundamentals for comic making. Workshops are free, but space is limited. Apply by 3/5!
forms.gle/Xaqc6zjTWjuSv9…

That link will take you to the Google Form to sign up; the two workshops are on Perspective (Saturday, 20 March at noon EST) and Coloring (Satruday, 27 March at noon EST), with connection info presumably sent to registrants.

For those looking for happenings between now and Sunday, let this be your reminder that the first week of March is Read AGraphic Novel Week/Will Eisner Week; the ongoing pandemic means there's less in-person going on than prior years, but that hasn't stopped the Cartoon Art Museum from organizing a graphic novel read-athon as fundraiser (helping to offset the loss of income from the whole no visitors in lockdown thing). You can sign up via the CAM 99 Pledges page, to support those reading, or to add your eyeballs to the -athon's effort.
Okay, that's what's going on now. We'll try to keep an eye on what's happening — and what's not — in The March That Never Ends. Case in point: it was announced today that WonderCon will be online-only (26/27 March) and San Diego Comic-Con is delaying again until July 2022, with a supplemental 3-day in-person event in November (all details pending as of now).
It's actually an open question how much society might be back to accessible by summer, but kudos to the showrunners for injecting a little certainty instead of delaying decisions. It's not a fun decision, but it's probably the only right one at this time.
---
Spam of the day:
Elon Musk says he's a supporter of bitcoin and thinks it will get 'broad acceptance' in finance & Bitcoin Rally Takes Crypto Market Value to New Record
Since Tesla announced it had bought a position in Bitcoin on 8 February, their stock has declined by 16.8%, and Bitcoin is down 2.4% (or, more impressively, down 23.1% since their high eight days ago). Your entire contention that I should give you money to put into their two financial vehicles is … misguided.
_______________
¹ In turn, handing the series over to Gabriela Epstein, and now to Chan Chau.
² Reminder: the fourth self-published book is coming, sometime before the end of Evermarch.