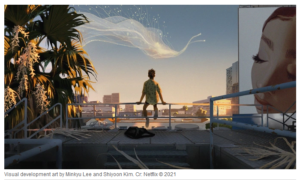 We have to start with Molly Ostertag's news. Readers will recall that her Witch Boy series is a modern marvel that everybody should read and pass on to other to read. And today we found out that Netflix is making it not just into a movie, but a musical:
Netflix To Release Animated Musical From Oscar-Nominated Director Minkyu Lee
The Witch Boy will also feature original music by the Grammy-nominated sister trio Haim. Maria Melnik writes the script with Roy Lee, Miri Yoon and Ryan Harris producing. Vertigo Entertainment produces the feature and Netflix releases.
Ostertag's … honestly, happy doesn't seem like a big enough word for what Ostertag is with respect to the production. Elated? Ecstatic? Joyous? What caught my eye the most, though, is the combo of the teaser image in the Deadline story and this bit from her tweet thread:
Seeing the way [Lee] connects to THE WITCH BOY and is transforming it for film, with thoughtfulness and care and artistry, has legitimately been the honor of my creative career. When I saw his first drawings of Aster I cried. I think you all will love this movie [purple heart emoji] [emphasis mine]
This will not be The Witch Boy exactly as shown in the book, a straight implementation designed only to appeal to existing fans¹. It's an adaptation to another medium, one that has its own strengths and weaknesses apart from comics — comics are not just storyboards, people! — and will look and play out differently than the original.
That image seems to feature an older, more citified Aster than we've seen before, and the story may aim for a different age range than the original books. This is all good, and if you have any doubts, read what Ostertag said again. If you love the original (and glob knows I do), the originals are still there on your shelf and won't change even if this turned out to be a fiasco — which, to be absolutely clear, I don't think it will be.
It's something new, with a different set of creative hands and different points of view on it, and it is absolutely going to piss the right people off. Can't ask for anything more than that. Oh, and note to self — figure out when you need to subscribe to Netflix. Given the lead time on animation, it'll likely be a while.
Other good stuff today:
Did everybody see Nancy today? That last panel is a legit brilliant idea.
I've made more of a thing about it over on social media than here, but I've really been digging the art on A Girl And Her Fed since creator KB Spangler² did the third act time jump and handed the drawing off to Brazilian artist Ale Presser. I mentioned at the time that Presser had both recently given birth and defended her doctoral thesis, and I may have mentioned at one point that she was soliciting survey input for that same thesis.

Not long ago³, she contacted me with the actual output of her thesis, including the video of her defense [in Brazilian Portuguese] and the full text [PDF, also Brazilian Portuguese], but with something that you, dear reader, may find useful. The dissertation is full of data and analysis, but its conclusions are a guide to making comics for small-screen devices, and it's both chock-full of good advice and also available in English [PDF]. Also, Messers Guigar, Kellett, Kurtz, and Straub: is this the first appearance of How To Make Webcomics in a bibliography? Maybe!
---
Spam of the day:
Exposed NASA-Funded Report Sends Shockwaves Through The US Population
They release those like twice a month, only they're about anthropogenic climate change so people like you that start emails Dear Patriot ignore and downplay them.
_______________
¹ Lookin' at you, first couple of Harry Potter films.
² Disclaimer: I am personal friends with Spangler, of the post-bail-and-help-you-hide-bodies variety, I did the foreword for her first AGAHF collection, and have served as an early reader for ten or so of her novels. She's rad.
³ Pandemics and new small humans means things take a while.