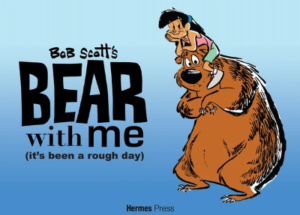 Boy, 2020 is the season for long-ago strips to come back. We already saw the return of Dr Kathy Peterson's Kidnapped By Gnomes, which was on the downswing at the dawn of the last decade. About the time taht KGB was 2.54 centimetering towards hiatus, Bob Scott was launching Molly And The Bear, about which I said:
[I]t occupies a spot midway between Little Dee (in that a kid and an animal interact in an all-ages appropriate manner) and (of all things) the Least I Could Do Beginnings strips on Sundays (which have a very similar, '60s-era gag cartoon feel to the artwork).
Turns out that since that day eleven and a half years ago (!), Scott has continued with the strip, although it went on several lengthy hiatuses and less-than-regular periods of updating, ironically right around the time of that post. But it's been publishing at least 5 days a week (sometimes 6, and often 7) since November of 2018 (although much of that was curated reruns; the current run of new strips goes back to August of 2019). There was a strip collection in 2016 under the old title and a new one is a-bornin' under the strips current title, Bear With Me. From an email from Mr Scott:
My Bear With Me webcomic has a new strip compilation book being published by Hermès Press that will be out January 2021. This is the second book.
The book is currently in pre-order at a US$10 discount off the US$60 price; considering it's a 250+ page hardcover and Hermès concentrates on archival-quality reprints of classic strips, that somewhat steep price looks justified. If you know somebody that's got a liking for the classic comic strip laugh-chuckles, take a run through the archives (starting here) and decide if a few zillion strips will keep your loved one busy and indoors until we've got a handle on the pandemic.
In other news that's about as far from the Scott's strip as it is possible to get and still be in webcomics, I was mightily intrigued by something Matthew Nolan said in the news below today's Oh Joy, Sex Toy. A fair amount of it was about some Numberwang he and Erika Moen have run on their latest Kickstarter, which has led to a pay bump for their guest contributors:
From now on, we'll be paying folks $140 a page (each comic is 4-5 pages long), and $160 a page for returning artists. As always, all the work done for OJST is creator-owned, so artists keep all the rights to their work. It's still a long way from a professional Marvel or DC rate, but we're still pretty proud. For just two nerds running a lil ol sex-ed webcomic, the idea that we can now pay $700-$800 for a comic is amazing.
It might not be Marvel/DC money (or heck, it might be), but considering some of the downright exploitative rates I've seen some of the mid- and small-size publishers offer, it's laudable. But the intriguing part isn't that Moen & Nolan are awesome people who are doing their damndest to support the community in a rent-and-groceries way; it's an almost throwaway addendum in two lines:
With that in mind, we are constantly hiring for guest comics.
More of a hubaballoo to come about that in the next few days =)
Creators, I'm going to say that it's worth your while to keep an eye on Nolan and/or Moen's social media accounts. When they mention the possibility of a hubaballoo, I start paying attention.
---
Spam of the day:
Good day my friend I see you moving around my house. You looks nice ;). Do you would like to meet?
Is this some kind of scam trying to say my house is your house? Because this house comes with a deer problem in the backyard and a greyhound that is a butt sometimes.