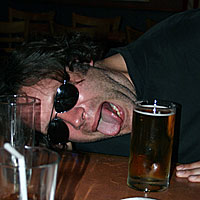 So I got an email from a creator asking me to check out a strip over at Comics Sherpa aka Your Guide To Undiscovered Comics. For those not familiar with it, CS is a we'll give you exposure instead of money service of GoComics, which itself a subscription service of Universal Press Syndicate (who claim to be syndicating the now-deceased William F Buckley Jr) and which also has no problems inflicting James Dobson and Ann Coulter on our nation's once-proud newspapers, and thus not an environment likely to make me want to visit.
But dang it — the email came from Bob Scott, Pixar animator, and it's pointing to a strip that's pretty good. Molly and the Bear has been running five days a week since January, and it occupies a spot midway between Little Dee (in that a kid and an animal interact in an all-ages appropriate manner) and (of all things) the Least I Could Do Beginnings strips on Sundays (which have a very similar, '60s-era gag cartoon feel to the artwork).
Scott's bio points out that he'll be including MatB in the forthcoming Afterworks 3 anthology (by various talented animators), some of which you can see previewed here; some damn good work there, and perhaps Scott will take the opportunity to put up his own website and get clear of the corporate master with his personal project. In the meantime, give it a look.
Hey, who wants to win stuff? Max Riffner wrote:


I do a webcomic called DRUNK ELEPHANT COMICS (I also draw Kevin Church's The Rack spin-off, LYDIA). Anyway, I thought your readers may want to know about a little contest I'm doing on Twitter. Tell me your best drunk story — you can win an iPhone from me. Use the hashtag #bestdrunkstory in a tweet.

Remember, that's in a tweet, with the hashtag, so keep it brief.

Speaking of iPhones, a creator who wishes to be anonymous wrote to point out something found during a web crawl:


I am surprised to see so many copyrighted titles in the non-Net comics list, though. I'd be very interested to learn the sticky ins-and-outs of royalties and copyrights if someone has just lifted a bunch of RSS feeds or whatever and turned them into a single collected iPhone app.

For the record, the developers of that app are charging $3.99 … I suppose it's no different that somebody convincing you to buy an RSS reader, then restricting it to display only certain RSS sites. Speaking of which, there appear to be perfectly good RSS apps for the iPhone for $0.00, so I guess what your four bucks buys is the knowledge that the developer really likes certain comics. If your choice is spending it there, or shooting smack into a vein, I guess it's not a bad use of your money. Then again, I'm told that an armful of horse is pretty sweet. Up to you, I guess.