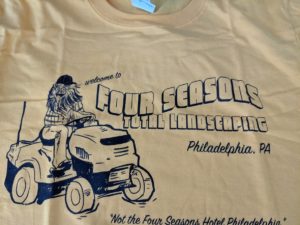 Hooray! My Four Seasons Total Landscaping shirt from the drunken recesses of Shing Yin Khor's celebratory id has arrived, and that means I am giving a chunk o' money to Fair Fight, which Stacey Abrams founded to combat voter suppression in the state of Georgia. I promised to match donations up to US$1000 and … okay, I get it. It's been a long four years and you're tapped out. It wasn't much that I got informed of, but I like nice round numbers, so I rounded my contribution up to five hundo.
And now, let's talk webcomics.
Molly Ostertag remains one of the finest writer/artists we have in comics, and I am very much looking forward to her next book. While I was sad that the Witch Boy series has concluded, it told the story that Ostertag wanted to tell, and I know well that she's got many more stories in her. Thus, my excitement yesterday when I saw a cosplay photo of a character from the cover of Ostertag's next book. The excitement that drives people to invest in a story, knowing it'll speak to them, based on the creator's track record? That's intoxicating and joyful.

And it reminded me that I didn't mention Ostertag's next book when it was announced over the summer on account of [gestures] everything. So look for The Girl From The Sea on 1 June 2021, hopefully when we'll all be able to walk into bookstores freely again.

It was not quite two weeks ago that I noted that one of Jim Zub's typically strong creator-owned stories was hopping from Amazon's clutches comiXology to print, but he didn't let me know at that time that he was about to launch a second chapter to that selfsame story. Which he did. Today:


STONE STAR Season 2 Begins!
Last year, Max Dunbar and I launched a new creator-owned series as part of ComiXology Originals and now we're back for Season 2 of the series.

Espen Grundetjern has brought his stunning colors once again and Marshall Dillon's lettering continues to dazzle. Our creative team is having a ton of fun building out this world and setting the pieces into place for even more cool stuff to come.

You can pick up Stone Star's entire first story arc at comiXology for two bucks, or grab the first issue of the second arc for three. Have at it.

Scott C jigsaw puzzles, Scott C jigsaw puzzles, Scott C jigsaw puzzles. On sale starting 1:00pm EST (GMT-5) Friday at the Scott C shop.
---
Spam of the day:
This brew is a powerful painkiller, without opiates, or addictive effects. Once used for everything, from painful toothaches to leg amputations…
The fact that you are trying to tell people to forage for whatever plant it is you're basing this on is only slightly less astonishing that the fact that you're expecting people to find a reason to imagine they'll be amputating their own legs.