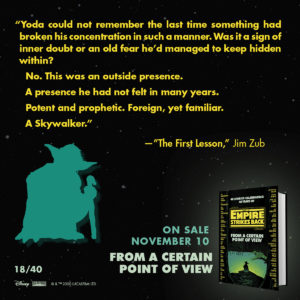 I mean, Jim Zub is one of the more omnipresent writers of comics in the biz these days, with some Wednesdays seeing as many as four Zub titles dropping simultaneously. Even better, the guy who's made a career out of being able to write in any genre, for any publisher, on time, slotting into whatever line-wide crossover or editorial mandate is going on, and setting up the big name who's eventually going to be brought onboard to replace him with a solid story foundation and plot hooks is working his way up to major titles. You know, things like Avengers.
But his heart will always be in his own stories. Okay, his own stories and Conan, because Zub knows what is best in life, but for the purposes of our discussion right now, his own stories. One of those own stories dropped via comiXology about 18 months back, and it was pretty damn good.
Thing about comiXology is that you don't really own comics, you rent them for as long as Amazon figures you should be able to, and to keep reading them in that timeframe you have to keep giving Amazon money. I prefer physical media that can't be memory-holed unless Bezos comes over to my house¹.
And whaddaya know, that pretty damn good story will be getting a physical release after all:
Stone Star volume 1, the Space Fantasy book I did with @JimZub, Espen Grundetjern, & @MarshallDillon for @comiXology, is getting published for print by @DarkHorseComics in 2021!
That from Max Dunbar, who had lineart chores on Stone Star to Zub's words, Espen Grundetjern's colors, and Marshall Dillion's letters. It's a story I wholeheartedly recommended before, and do so again now that you can actually pay for a permanent copy.
And because Zub's never got just one bit of news to share, allow me to point out that he's got some pure prose available for you, too:
I'm thrilled to announce that From a Certain Point of View: The Empire Strikes Back is now available from your favorite bookshop or online outlet. I'm one of 40 authors who contributed a short story showcasing how characters beyond the main cast see and feel about events that take place in that wonderful Galaxy Far, Far Away.

Every author involved in this special project has waved initial payment and royalties so that all proceeds can go to First Book — a leading nonprofit providing new books, learning materials, and other essentials to educators and organizations serving children in need. To further celebrate the launch, Penguin Random House is donating $100,000 to First Book, and Disney/Lucasfilm will donate 100,000 children's books — valued at $1,000,000 — to support First Book and their mission of providing equal access to quality education.
That from an email that Zub sent me yesterday, but if you want deets you can check out the tweet as well. Zub's story is about Yoda's reaction to a certain farmboy showing up in his swamp. Ever wonder if Yoda's people have inverted syntax in their internal dialogue? Or if a 3rd-person narration can be written in Yodaspeak while still getting the point across clearly? Or if reading Yoda's words will cause Frank Oz's dulcet tones to resonate in your brainmeats? One way to find out, nerf herder.
---
Spam of the day:
Herb Hegmann, a 47-year-old father of 4, was close to giving up? He had struggled with tooth and gum decay for more than 7 years? He'd tried everything, but nothing worked?
It's called flossing, Herb. It's simple, it's cheap, and it works.
_______________
¹ And if he does come over to my house to memory-hole my comics, I have a greyhound that can sprint up to 70km/hour and who will aggressively get in his face to demand attention and petting.