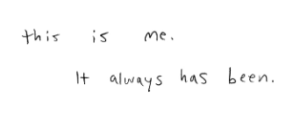 There's something about when people who have a bit of fame share a little insignificant bit about themselves and you can see from 1.609 km off that it comes from a place of narcissism. The share is too neat, to designed to elicit a specific emotional response, usually something along the lines of See, I'm just like you and now you love me more.
But there's something entirely different about when people who have a bit of fame and also howler-monkey detractors and share something about themselves that you just know will set those monkeys a-howling but they do it anyway because it's something that's true, something they have to get out¹, and it's an act of stunning generosity because that vulnerability they share can reach out to somebody who's likewise vulnerable and tell them You think you're messed up but see, I'm just the same and I'm okay (or gonna be okay) and that means you're okay, too.
I have mentioned before that I am incredibly lucky to be both neurotypical and utterly in line with society's expectations of my assigned-at-birth gender, which removes a shedload of obstacles in life. I am likewise incredibly lucky to know people who weren't so lucky on either or both scores, and who've been generous enough to share their experience of finding ways — sometimes by fits and starts — of being kinda okay with who they are, then fully accepting of who they are, and hopefully arriving in a place of loving who they are. I'm a better person because of everybody that didn't fit into societal or neurochemical norms and doesn't let the world deny them who they are.
I'm likewise grateful to the medium of [web]comics for helping so many creators come to realizations of who they are; I'm thinking particularly of a panel discussion at last year's Queers & Comics Conference where a creator related the story of a reader saying that their comic made them realize they were trans and the creator's reaction was Huh. HUH. as the lightbulb went off in their own head. Looking around the panel and the room, there were more than a few nodding in agreement.
All of which is to say that one of the most nuanced, empathetic, stunningly generous creators we have, Noelle Stevenson, shared her latest truth over the weekend in the form of a 35 page pay-what-you-like meditation in comic form called The Weight Of Them at Gumroad. Whatever you're doing right now, take the time to download it and read it; like all their projects, you're a different person than you were when you started. It's a gift to pull another into your head and see what life is like from behind your eyes, and Stevenson's among the very best we have at it.
---
Spam of the day:
Y'know what? Nope. Spammers don't get to ruin the mood today.
_______________
¹ And, too often, because if they don't share, the howler monkeys will scream all the louder. There's no satisfying the toxic elements of a fandom.