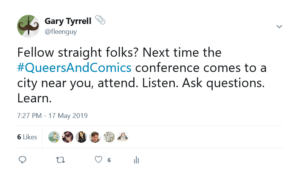 T'other day, I wrote the following regarding the 2019 Queers & Comics Conference on Twitter:
Fellow straight folks? Next time the #QueersAndComics conference comes to a city near you, attend. Listen. Ask questions. Learn.
And so in that spirit, some thoughts of what I learned, mostly in the form of things said by presenters in their own words¹:
Asked about the motivation for their project: Spite.
One of the best ways to change the world is to pretend it's already changed.
Asked about the tenor of their comic: Do you want to be depressed … but with jokes?
Commenting on a recurring artistic theme: I wanted some Magical Boys [in the comic], there aren't enough of them!
Speaking about the creation of comics as a form of self-discovery: You've basically spoken to yourself … via other people.
On the value of how readers react to your work: [A reader said] "Your comic made me realize that I'm trans" and I'm like "Huh." … "HUH."
Our duty as queer artists is to resist. But also to create … new ways of looking at the world.
Because we are smarter and more talented and hotter than [those oppressing us] we will win.
Here at Queers & Comics, we have represented five decades of queer cartooning.
I'm looking forward to when we can create queer comics characters who are bad.
If you think trans kids are too young to know their gender, put all kids on hormone blockers.
On challenging themes in kidlit: Kids are pretty self-censoring. They'll just put the book down if there's something traumatizing there.
The reason I liked Bilbo Baggins is he didn't know his own worth and discovered who he is.
I'm not cisphobic. Both of my parents are cis. They're very active in the cis community.
I have a lot of kids in my life. I want them to read everything, read the old stories and break them down. To see why Cinderella is treated that way.
On the box-checking of LGBTQ+ themes in kidlit: What I see is a focus on tolerance rather than a celebration of diversity.
I wan to go back to one of those: Our duty as queer artists is to resist. But also to create … new ways of looking at the world. It wasn't addressed to me; in fact, pretty much none of what was covered in the day I attended (and I presume in the day I didn't) wasn't addressed to me, and that's a big part of why I felt I needed to show up. As long as the world is made by and for the comfort cis/straight folks², it's incumbent on those of us who are playing life on the lower difficulty settings to listen to those who are structurally disadvantaged.
If you think of yourself as a good person — and I'm going to wager most of us do — the absolute least thing you can do to make the world fairer and more equitable is to show up and listen when people say We're being hurt. We're being ignored. To take just a couple of hours and immerse yourself in a space where everything isn't about you. To ensure that those who are trying to figure out their place in the world aren't just speaking among themselves³.
And because this page is about webcomics, a note from the discussion on libraries.
Karen Green is a superstar in the comics/libraries world, having established the collection at Columbia University. I will listen to her talk on any panel, anywhere. And because she noted the unique challenges in properly archiving some of the more ephemeral forms of comics ('zines, webcomics), she decided to do something about it. In conjunction with colleagues at the University of Chicago, and using technology from the Internet Archive, Green helped to establish the Global Webcomics Web Archive.
Got a webcomic that would otherwise be lost? Contact Green, and they can crawl it/preserve it. Not saying that maybe every webcomic that is ultimately dependent on Tumblr for its presence should do this but maybe I am. Also at risk for loss: e-file rewards. That PDF that's unique to your Patreon or Kickstarter? Some day it won't exist anymore. Green doesn't have a good solution — if you wanted to send it to her, she's got no place to keep it, and no right to circulate it. You could give her permission for circulation — say, after a certain date — but she's still got no place to store it. Your physical copies, though, she's happy to accept. Maybe you could print off and do a simple binding on a copy of that e-reward and let Green know you'd like to donate it?
Finally, because Green is one of the best people, she has a budget for acquisitions. I'd say make donations if you can (grab out a copy from a print run and send her an email to ask where to mail it), but point her at your store if that's not possible for you. She also now has a line item in her budget for acquiring original comics art from the New York City community, so if you're making stuff and you have an original that especially significant that you'd prefer to see preserved for the future? Contact her.
Karen Green's email is klg19, which may be directed at Columbia, an educational institution of high repute. She'd love to hear from you.
---
Spam of the day:
You were recently chosen as a potential candidate to represent your professional community in the The 2019 Worldwide Association of Female Professionals We are please to inform you that your candidacy was formally approved Congratulations!
You have fundamentally misunderstood something about me, would-be identity thieves, but it's an interesting coincidence that you came up today.
_______________
¹ Or as near as I could capture in the moment. All quotes are believed to be accurate.
² And let's not fail to extend that to include white, male, wealthy.
³ The introductory/welcome session on day 1 was held in an auditorium with a posted capacity of 180, and I'd say it was about 70% full. The program for the conference listed 144 presenters. Granted, not everybody that was going to be at the conference was in the room for that session, but I'd say that not only do more straight folk need to show up to listen, more people who aren't on the presenter list need to.
It's still early days for the Q&CC (this was the third iteration), but you need to have a lot more people in the audience cohort than the presenter cohort to get the ideas really into circulation so the one community (queer) can effectively disperse ideas to the other (comics). Which again: straight people, but also all comics people regardless of orientation need to show up. It's twenty bucks and some time.