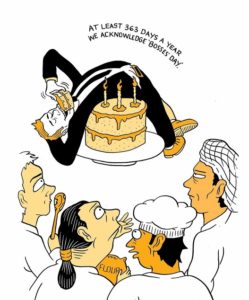 What's that? You didn't know how this isn't the real day to celebrate working folks, the one that's celebrated around the world? Fortunately, The Nib has you covered, with a timely rerun from two years ago by Sam Wallman.
So in honor of the holiday (not that we can really tell the difference, as today is functionally March 192nd), this is going to be short post, letting you know about the winner of the Fleen Free Graphic Novel Giveaway. We took at look at the responses¹ and from them randomly picked Erik, who wrote:
I've been meaning to subscribe to The Nib for quite a while, and this is exactly the push over the line I've been needing. Regardless of whether I win a book, I'm subscribing now, for the foreseeable future given the level of content. And if by some chance my name gets pulled, I'd love the George Takei memoir – he's been a superb role model for how to turn celebrity into positive social energy.
Everybody feel good for Erik! Once They Called Us Enemy gets delivered, there will be a selfie that we'll run here.
Oh, and as a quick reminder, today is the premiere of Elinor Wonders Why; you can look up broadcast times for your local PBS station at PBS.org and clicking on the link for TV Schedules, which should take you to your local PBS station; for those of you in the NYC metro area, Channel 13 has it at 10:30am and 1:30pm.
That's it, everybody; enjoy the day, read about the history of the labor movement or other attempts at progress and justice, and we'll see you back here tomorrow.
---
Spam of the day:
Hey, great site. Are you guys still open? I'm reaching out businesses who need more customers right away. Here's how we can increase the visitors to your business immediately
Reply to spam of the day:
If I were any more open, I'd be the Goatse guy!
I swear I actually replied to the email with this. I am both proud and not proud of this.
_______________
¹ Since we posted the contest, we at Fleen have become aware of an irregular email issue where some senders (but not all, and even those that are affected aren't affected all the time) are getting errors that the domain fleen.com doesn't exist. I spent some time with tech support today and it's a nameserver issue, the resolution to which will take another day or two to spread. If you got bounced on your entry, I'm very sorry and better luck next time we give something away.