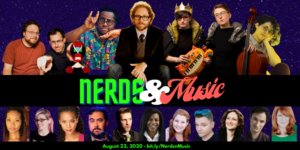 As I trust you all remember, yesterday was Holemas, the day that we commemorate Ryan North getting stuck in a hole. In fact, yesterday was the 5th Holemas, the original adventure having taken place in 2015. And if yesterday was Holemas, that makes today Holeboxing Day, when the mighty give gifts to the meek.
And who — who, I ask you — is mightier than Strong Bad? Nobody, that's who. And since it is long-standing doctrine in these parts the Homestar*Runner is a webcomic, I wanted to tell you about something the estimable Mr Bad has coming up, along with some friends of his.
One of the side effects of the Oh Glob, We're Going To Be Like This Forever Thanks To Incompetent Federal Behavior pandemic is that live shows pretty much don't exist, unless you're Smash Mouth and you feel like doing your damndest to turn Sturgis, South Dakota into the latest contact-tracing nexus. It's a tough thing, relying on people that will pay you to be in the same space at the same time as you, but some internet-centric musicians have been doing remote concertlike events for some time, and I'm not saying that COVIDtimes are good times for them, but they're at least a bit ahead of the curve in figuring out how to ply their trade.
Enter: The Doubleclicks, nerdy musicians par excellence. They've been running shows everywhere from straight YouTube to inside Animal Crossing for a bit now, and they're ready to bring a bunch of their nerdiest friends together for a big ol' show of music and comedy on Saturday, 22 August at 6:00pm PDT/9:00pm EDT:
Join Internet musicians Jonathan Coulton, the Doubleclicks, Nur-D and Molly Lewis for an evening of music, comedy and love, with lots of special guests including: Hal Lublin (Thrilling Adventure Hour, Nightvale), Danielle Radford (SyFy's Great Debate), Strongbad (Homestarrunner), Zach Reino (Crazy Ex-Girlfriend), Kim Evey (The Guild), and SO MANY MORE, with sketches written by Kayla Cagan (Piper Perish) and produced by Ben Blacker (Thrilling Adventure Hour)!

It's like one of those big variety shows at conventions with lots of cameos and funny bits, except it's in your house, and it's very very very well-organized, because we're running it.
That from the email that Los Dobles Clics sent me because I give them money in exchange for their albums, but also on their website. Due to the number of folks performing, it won't be a tip jar kind of situation, it'll be a ticketed event, moreso because the show is a benefit for MacArthur Project and Mutual Aid Disaster Relief — proceeds will be used to obtain food, medicine, shelter, hygiene supplies, and other needs of LA denizens without homes.
Getting your ticket now means you'll get an email with the link for the livestream (which will be replayble until Sunday, 6 September at midnight EDT) instead of waiting for a possibly over-busy website at showtime. Tickets are US$6.50, with an option to make an additional donation of any amount on top.
And because you'd like to know who all is on the bill, in addition to amazing superstar headliner Strong Bad and special guests The Doubleclicks, you'll also have Jonathan Coulton, Nur-D, Molly Lewis, Amy Dallen, Aydrea Walden, Hal Lublin, Lexie Grace, Danielle Radford, Kim Evey, The Library Bards, Mary Robinette Kowal, Paul and Storm, and Zach Reino, in an extravaganza written by Laser Malena-Weber and Kayla Cagan.
Honestly, it's a little too much entertainment for the cost of a fancy coffee and two-thirds of a pastry to go with it. It's not like it'll sell out, but get your tickets ahead of time anyway; when they see how much they've raised for the cause, the performers will put that much more love into the show.
---
Spam of the day:
We've developed the bots to act as salespeople in order to generate a consistent source of quality leads. They're not only outperforming a typical sales persons workload by the equivalent of ten times, but they also drive down lead costs by a phenomenal amount.
This was sent to me because I'm the listed tech contact for my EMS agency's website. I'm half-tempted to see if their bots can actually generate more sick and injured people and if they can, to get them shut down because it'll be the friggin' robot apocalypse.