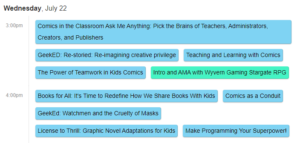 It's gonna be a weird year for SDCC programming. There's no Sergio 'n' Mark panel! And in a year that would seemingly require the Tell Us What We Can Do Better session on Sunday afternoon has none. And every session starts at the top of the hour, when they could be staggered easily?
But there's lots of what appear to be pre-recorded media launches, so there's that. I'm looking at things that interest me, many of which are at the same time, but which will probably be much easier to bounce between if one turns out to be a dud — no standing at the back of the room after you walk halfway across San Diego, and the library/school/YA panels aren't a (granted, very pleasant) 20 minute walk away at the library.
Let's dig in.
Comics In The Classroom Ask Me Anything: Pick The Brains Of Teachers, Administrators, Creators, And Publishers
3:00pm — 4:00pm, SDCC or YouTube
Appears to be pre-recorded rather than live; high school teachers from around the country posed questions to Ronnell Whittaker (teacher), Lucy Knisley, Jason Walz, and Lisa Wu (consultant and former teacher). Doesn't appear to have a publisher?
Teaching And Learning With Comics
3:00pm — 4:00pm, SDCC or YouTube
Reps of public schools, state universities, and private universities talking with Ebony Flowers, David Walker, and Brian Michael Bendis.
New Kids Comics From Eisner Award Publishers
5:00pm — 6:00pm, SDCC or YouTube
It's got Jerry Craft and Faith Erin Hicks, that's reason enough before you add in Robin Ha, Derick Brooks, and Jonathan Hill; moderated by YALSA's Candice Mack. This one looks like a must-see.
Web Comics: Saving The Entertainment Industry, Four Panels At A Time
11:00am — noon, SDCC or YouTube
Maybe you don't look for solutions to saving an industry, maybe webcomics can be their own thing? And it's not a good sign that one of the panelists has website listed that doesn't seem to exist, and when it did exist didn't seem to have anything to do with comics.
Shaenon Garrity In Conversation With Andrew Farago
2:00pm — 3:00pm, SDCC or YouTube
Now these two folks, they know webcomics. Also manga, museum operations, tiki culture, and all of each other's secrets, seeing as how they've been married for more than a decade. I hope that Shaenon Garrity gets invited back as a featured guest next year seeing as how this one's a bust, but at least she gets her spotlight panel.
The Adventure Zone: Petals To The Metal Graphic Novel
2:00pm — 3:00pm, SDCC or YouTube
Indispensible for Mcelfans, as Clint, Travis, and Griffin sit down to talk with artist Carey Pietsch about the third (and presumably not last) Adventure Zone adaptation. Moderated by Satine Phoenix.
Raina And Robin In Conversation
11:00am — noon, SDCC or YouTube
That would be Robin Ha, and Raina is, of course, Raina. Want to learn how to do memoir in comics? Watch this.
History Goes Graphic
noon — 1:00pm, SDCC or YouTube
I expected this one to involve folks from :01 Books, what with the launch of their history and civic engagement lines, but nope. However, let's be clear: there's nothing to be disappointed by here, as the panel features Fred Van Lente, Tom Scioli, David Walker, Mikki Kendall, and Malaka Gharib, moderated by Kaitlin Ketchum.
The 32nd Will Eisner Comic Industry Awards
7:00pm — 8:00pm, no links provided
Yeah, I don't know what it means either, but no functional links associated with the Eisners? Par for the course this year. Interesting that they only blocked out an hour, which I guess means no acceptance speeches and it's all a pre-recorded list o' names from host Phil LaMarr
Edit to add: Links are now provided for SDCC and YouTube.

Saturday
Diversity And Comics: Why Inclusion And Visibility Matter
noon — 1:00pm, SDCC or YouTube
For the sake of the panelists, I hope that this one is pre-recorded and that comments are disabled, because the C*micsg*te CHUDs are going to be mortally offended that this exists and nobody needs that shit. But kudos to whoever wrote the description because they included the websites for the panelists — John Jennings, Frederick Aldama, Christina 'Steenz' Stewart, Chelsea 'Ché' Grayson, David Walker (making his third appearance in this post), and Stanford Carpenter, who between them have three Eisners and two more nominations¹ — and thus saved me the time of hunting them down.
Edit to add: In fact, I was so astonished by those time-saving links that I initially forgot to include them. Fixed!
Best And Worst Manga of 2020
3:00pm — 4:00pm, SDCC or YouTube
Speaking of times to disable comments, as I previously noted, the howler monkeys won't get to shout abuse at the panel, at least not in a way that they have to hear. This may form a decent precedent for future iterations. With Brigid Alverson, Justin Stroman, Morgana Santilli, Eva Volin, Megan Peters, Rob McMonigal, and Deb Aoki.
Inspired By Real Life: The True Stories Behind Graphic Novels
2:00pm — 3:00pm, SDCC or YouTube
Nate Powell is going to be there and if the entire thing turns into a remembrance of John Lewis, well, I'm okay with that and I imagine it wouldn't annoy Van Jensen, Scott Chantler, or moderator Diana Pho too much either.
LGBTQ Comics And Popular Media For Young People
2:00pm — 3:00pm, SDCC or YouTube
I think I might just set up two monitors on two computers and double up during this timeslot. Moderator Cort Lane talks with Gina Gagliano, Trungles, Alex Sanchez, Noelle Stevenson, Mariko Tamaki, Brittney Williams, and Michael Vogel.
Keenspot 20th Annual Comic-Con Panel: Pandemic Edition
3:00pm — 4:00pm, SDCC or YouTube
You can't keep a good tradition down, and Keenspot closing things out on Sunday afternoon is certainly a tradition. This year's giveaway will be digital, naturally.
---
Spam of the day:
How To Get Paid For What You Already know
I do that every day. It's called a job.
_______________
¹ Take that, C*micsg*te CHUDs.