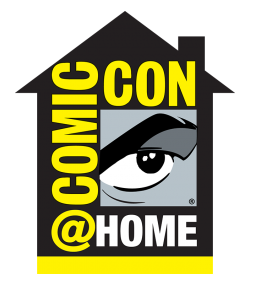 It looks like a bunch of aspects of San Diego Comic Con are on after all:
Plans for Comic-Con@Home include an online Exhibit Hall complete with everyone's favorite exhibitors offering promotions, specials, and limited-edition products unique to the celebration. As well, Comic-Con@Home promises exclusive panels and presentations about comics, gaming, television, film, and a wide variety of topics from publishers, studios, and more. As if that weren't enough, Comic-Con@Home will also have a Masquerade, gaming, and many other activities in which fans can participate from their own homes.
Not a lot of details about how all of this will work, yet. Will exhibitors be linked from an official platform, one that offers both transaction capability but also the ability to interact with a creator? For real, if you could come up with something that lets an attendee produce a verifiable payment, then talk with a creator for five minutes while watching merch get personalized, you'd have something replicating the experience and providing a value-add for so many people who've watched their income tank this year¹.
Related question: is there a mechanism that provides for con exclusives, something that gives people a chance at their favorite variant stuff but keeping eBay churners from snapping everything up? It's not a simple problem, as anybody who's tried to get a hot concert ticket can attest.
How do you wrangle the cosplay Masquerade and/or the Eisner ceremony with far-flung participants? Will the former, particularly, feel the same without the presence of an adoring crowd? More generally, are there some panels and discussions that will have less cachet if they don't come with a veneer of I was there, you weren't²?
On the other hand, the lack of crowds, the lack of overpriced (and frequently terrible) convention center food, the lack of hours-long lines to get into a popular panel, and having to dodge maniacs on electric rental scooters are all positives. And then there's this:
Although Comic-Con@Home will provide badges for fans to print and wear proudly, all aspects of the initiative are free and there are no limits to how many can attend.
If this is a success, there will be a tremendous pressure to keep some parts of the no-cost, at-home participation in future; there are many more people that want to attend than are able to score passes, after all. It'll also mean that I could just sit and listen to panels for the first time, rather than try to take notes and pictures for write-ups.
For those interested in blocking out time to attend, Comic-Con@Home will be held on original SDCC 2020 dates, 22-26 July³, although times (and time zone!) have not been announced. If I can figure out how to replicate the experience of having lovely drinks at my favorite speakeasy with my craft cocktail best buds, or hanging out by the fire pits with my friends from #ComicsCamp, I'll be sure to let you know.
In other news, it's been about two years since Dante Shepherd wrapped up Surviving The World, but there will never be a day when Shepherd's real life alter ego, Professor Lucas Landherr, isn't looking for ways to help others not merely survive, but thrive:
[G]iven the current Black Rights Matter protest, and JKR even further torpedoing her legacy yesterday with her transphobia (happy Pride, by the way), this comic seems like it meets the current moment well enough.

When STW ended, we made a book of the best 300 comics. You can buy the PDF of the book right now, and all sales are going to go to support Black Lives Matter, and foodbanks in need because of the coronavirus. And there's more. You can also buy all the videos ever made for STW, including many that were not openly shared, and all sales are also going to the same causes.
If you've ever wondered what a chemical engineer doing a velociraptor impression looks like, let's just say it's enough to make Randall Munroe break into a sweat.
---
SM20 Countdown for 11 June 2020:
1
_______________
¹ If there's not such a mechanism, I'd urge creators to start working out something similar for themselves.
² On the other hand, some may run more smoothly without the crowd; I'm thinking here about the annual Best/Worst Manga panel, when the crowd goes full howler monkey when told their favorite it Not Good, Actually.
³ Reminder: if you had badges for SDCC 2020, you can either roll them over for the same days in 2021, or get a refund. Refund requests are good until 1 July, after that your badge will transfer automatically.
Oh, and in case you've forgotten, Reed!Pop apparently still thinks that people will congregate in large numbers for EmCity a month later, which … I just … no.