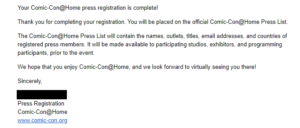 As previously noted, SDCC 2020 isn't happening in person (and I wouldn't bet on 2021, between you and me), but will be having virtual programs.
Guess who just got credentialed as press for said virtual programs?
Curiously, this happened with ease and efficiency (the entire process took me about ten minutes) at the same time that other persons within Comic Con International can't seem to respond to me about the Eisners data breach fiasco. Nice to know they don't institutionally hold grudges¹, but I really want some answers.
Since it's been a week, and since the Eisner re-vote has finished, I'm going to try one more reminder that I'm still waiting on a response to my questions. Given that it's about to be a holiday weekend, I'll give them until end of day on Tuesday (that's 7 July) before I take their response to be No Comment². I'll leave it to each of you to decide if no comment on the their responsibilities re: notifications to victims and the state of California³ to be an ass-covering, or a failure to recognize the relevance and importance of the situation.
With any luck, the virtual SDCC will have the traditional Give us feedback about the show session on the last day, and I'll be able to nail down an answer then.
---
Spam of the day:
Drug Prices Are Too High
Look, even if that were a site that did more than openly ask you for your email address without identifying who the fuck they are, there's no way anybody sees that domain name and thinks of anything other than The Rent Is Too Damn High guy. I saw him on the streets of Manhattan once. Dude totally looks like a karate expert.
_______________
¹ Or at least they didn't connect my name with my submitted questions.
² In the EMS world, we call that one refusal by action.
³ Not to mention jurisdictions around the world. The European Union may have opinions on the matter, but I'm not qualified to comment.