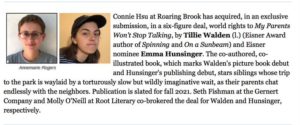 Y'know, I've missed an awful lot of comic news these days, simply because the volume on social media exceeds my ability to keep up with it. When I get to open Twitter, I'm not reading from where I left off to the present to catch up; I'm scanning what's immediately in front of me and skipping over entire swathes. Finding the new story is entirely hit or miss if I'm not tagged.
Last night, I happened to open Twitter directly on a story du jour, this one about a creep whose whisper network is finally speaking out loud; the volume of discussion vs my time was such that I'm sure I haven't seen all of it. Cameron Stewart [no link] did the fairly brilliant (if sporadic) Sin Titulo [no link, although see below], I met him back around 2007 or 8, I bought an original or two from him at MoCCAs past, and we would talk webcomics once or twice a year at shows until, I dunno? 2013? Before he got the Batgirl gig. From multiple people willing to go on the record, he was a sex pest towards much younger women, and arguably grooming teens for later sexual relationships.
I'm not getting into arguments as to whether or not he did anything illegal or if hitting on comics fans (as opposed to up and coming creators) by leveraging his status in the field obstructs new careers while they're getting started. We're also not having those arguments on this page — have them elsewhere. His behavior was predatory, and if it was a guy in his 30s in a van hanging around the high school, I think fewer people would be reluctant to call our his behavior. But it wasn't, it was a respected creator using his position at cons to cultivate relationships not with women he sought out, but with ones he could get alone.
I've reached a point in life where I don't have any compunctions about calling out shitty behavior, or demanding the people I associate with not engage in established patterns of shitty behavior. He hadn't posted anything on Twitter in about forever that I recall (and his account was locked when I looked this morning), but I've unfollowed. His work exists, but I'm no longer promoting it¹. It's not really a very high bar to clear that you don't willingly associate with shitty people, or tell people that are perhaps thinking about engaging in shitty behavior that they have to do better.
There are too many people out there doing better, doing too much good work, to waste time on those that can't be bothered to not be a garbage person. I doubt I'll have cause to speak of him again, and would like to spend the rest of today talking about some of those folks that find ways to do better².
Jim Zub is the opposite of an obstruction to new creators; I've remarked on this page that his habit of sharing information, best practices, and data from his own creator-owned career has had the effect of making up-and-coming creators more effective and more likely to succeed in their careers, which is arguably against Zub's interests. If those newbies that he's coaching become runaway successes, they might take jobs (or comic-buying dollars) that might have gone to Zub instead, and he doesn't have a problem with that. He wants to succeed in comics, but not by pulling up the ladder behind him. If somebody grows past him, he'll be thrilled because he'll get to read awesome new comics.

Which is why it's heartening to see him score a success off his first creator-owned comic series³, Skullkickers:

Copernicus Studios Inc is proud to announce a development deal to adapt the SKULLKICKERS comic series written by Zub and illustrated by Edwin Huang and Chris Stevens into an animated action-adventure series for adults.

The rest is out of the press release stylebook that talks about Zub, talks about the studio, makes reference to why adult animated makes sense from a market perspective, then has the artificially enthusiastic quote at the end. I'm not sure why press releases feel the need to format themselves in such a way as to invite — nay, demand — a businessperson exclaiming It's time to kick some skulls!, but there are entire B-school marketing curricula that train people to do that. Anyway, Zub's a great guy and I'm looking forward to Adult Swim or whoever featuring a pair (sometimes trio) of reprobates that take apart every fantasy trope and cliche.

Speaking of those younger creators who hit the stratosphere in terms of critical and popular success, you'd be hard pressed to find one with as meteoric a rise as Tillie Walden. In my review of her spectacular Are You Listening?, I wrote:


There is a moment when I open a Tillie Walden book when I pause, knowing that there's a very high chance that what I'm about to read will take up residence in my brain for an extended period of time until I am changed by the experience.

I pause not because I am reluctant, but because I'll never again have that moment of anticipation when I have an entire new Tillie Walden story to look forward to.

So to say that I love her comics is a bit of an understatement. I also know that Walden's comics are possibly not a thing we'll get to enjoy indefinitely; musing on how Are You Listening? wouldn't be out of place as a career-capping masterwork after 50 years of comics making:

Given how Tillie Walden threw herself into skating to the exclusion of all else for ten years or so before shifting to comics, it might well be the capstone of her comics career if she decides it's time to shift again. It would be a tragedy to have no more comics from Walden, except for the fact that whichever next artistic endeavour she threw herself into would surely be as assured and captivating as this one.

I'm not saying that Walden is leaving comics behind, but she's spent a good deal of the past year or so illustrating a tarot deck, and she's now part of a comics-adjacent-but-not-comics project that could take her career in a new direction:

entering the world of picture books with @edhunsinger

More precisely, Walden and Emma Hunsinger (Eisner nominee this year for How To Draw A Horse in The New Yorker, which was really amazing — even more amazing is for a young woman to break into the ranks of New Yorker cartoon regulars) are partnered up on My Parents Won't Stop Talking:

The co-authored, co-illustrated book, which marks Walden's picture book debut and Hunsinger's publishing debut, stars siblings whose trip to the park is waylaid by a torturously slow but wildly imaginative wait, as their endlessly with the neighbors.

And whee-doggies, the world of picture books seems to have different economics than the world of comics, as Roaring Brook Press (sister imprint to :01 Books) bought MPWST for a euphemistically large six figures.

We at Fleen offer the heartiest congratulations to Hunsinger and Walden. I'll need to clear space next to The Princess And The Pony, King Baby, Leave Me Alone!, The Little Guys, and the soon-to-be-released Let's Get Sleepy by fall of next year.
---
Spam of the day:
How to shrink your swollen prostate naturally (sleep better, normal pee, better sex)
Wow. Just went looking for the big ol' spammer mark profile list that reads "Dudes over 50", didn't you?
_______________
¹ He's no longer linked on the suggested comics list, but for more than being shitty. When I clicked on Sin Titulo's link earlier today prior to removing it, I found that it's been replaced by a Japanese language site offering Perfect Bridal Dress [sic], so you couldn't follow the link even if I wanted to point you towards it. I suppose it's still at the Wayback Machine, but I ain't providing a shortcut.
² And may entropy grant that more people whose work and company I've enjoyed don't turn out to be shitty people in future. Giving up their company and their art isn't the issue — it's that even a handful is too damn many.
³ Or perhaps, series of miniseries; there were multiple four-issue arcs, each separated by a single issue of short stories.