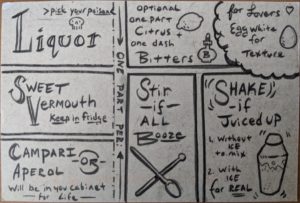 There's nothing like getting an unexpected letter to raise your spirits¹. During the Alaska Robotics Camp @ Home event at the end of April, I hosted a session of the ever-popular Talk About Whatever You Want For Five Minutes; there were quick presentations on Mastodon, food manga, English paper piecing, marble sports, and more. I led off with a quick five minutes on cocktail making², mixing along as I spoke into Zoom, then enjoying the fruits of my labors for the rest of the hour.
Lee Post was watching. Something you need to know about Post is that he sketchnotes, much like fellow Camp alum Jason Alderman. He mentioned he enjoyed my talk, and then I got a Post-card (I'm so sorry) in the mail yesterday with six panel version of my five minute talk and I am in a good mood as a result. Let's see what's going on in the world today, if we can't maybe elevate your mood as well.
---
Spam of the day:
1 Bathroom Trick That Kills Diabetes
No, no, that's not how it works. Bathroom tricks are always about how to clean grime and soap scum out of tile grout, not diabetes. Get with the program.
_______________
¹ In a minute, you'll be mad at me for that pun.
² I called it Three Drinks In Five Minutes and based it around the idea you need to balance the key flavor components: sweet, sour, and bitter, with your preferred booze in the center. I started from the classic Negroni (1:1:1 gin, sweet vermouth, and Campari), noting that you could sub in other liquors (bourbon makes it a Boulevardier; applejack makes in an Avenue A) or liqueurs (Aperol is distinct from Campari) for a wide variety.
Then I introduced the idea of adding one part citrus (lime would do well if it were gin based, especially if you changed the Campari to something like Suze), and finally kicked it up another notch by mentioning egg whites. Three master recipes, and I got to call James Bond an idiot for insisting on martinis being shaken. It was fun times.
³ Or possibly George, who manages Xu's business. Smart guy about the Kickstarts, that George.