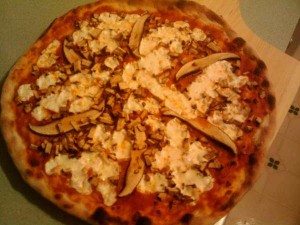 It's the passing of an era, as Pizza Island — bastion of crush walls and ladygossip¹ — announced its imminent closure. This is because either every member of the studio is the Yoko or because the demands of travel and expense make this the logical move, your choice.
While it lasted, the members of Pizza Island pushed themselves and each other to ever-better work, and one could argue that — shared space in the future or no — their artistic growth cannot be lost, and whatever pushes them (individually and collectively) in the future will be a different stressor (in the best sense of the word) and cause them to develop in ways that the studio couldn't, merely because it's a new source of change rather than that established over the past two years².
In other words, I don't think that the Pizza Islanders are all broken up about it (although I'd imagine they'll look back on their studio time with fond remembrance), and are busy enough with What Comes Next. Case in point: within half a day of the closure announcement, Meredith Gran produced an Octopus Pie strip that's beautiful to look at and hilarious in about twelve different ways. It's no exaggeration to say it's maybe her best yet — a distinction that's shared with about 85% of her updates because she just keeps getting better.
I have every confidence that the same will be true for the art that is next shared with us by Domitille Collardey, Deana Sobel, Sarah Glidden, Julia Wertz, Lisa Hanawalt, and Kate Beaton. In fact, I've got some American cash money right here — set aside for purchasing the next projects from these incredibly talented creators — to back up my words. Let's let that be the takeaway here: if you love somebody's creation, support it and then more cool stuff will be created.
________________
¹ I repeat: Jesus Tapdancing Christ.
² I'm not exactly certain, but I think that's the longest sentence I've ever produced that vaguely made some sort of sense.