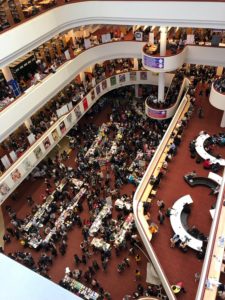 In a world with better planning, a world where scientific offices and liaisons weren't shuttered, a world where playbooks weren't ignored and the most brutally stupid and cruel weren't in charge of the world's richest country, we might be seeing last-minute anticipation for this weekend's TCAF. We might see other people gearing up for Comic Arts LA later this year, instead of a cancellation¹. And we (that is, we at Fleen personally) might, in a better world, have a downstairs toilet that didn't break its flapper valve and be unable to flush, but at least that one I can fix.
In the meantime, take solace in the fact that the CALA organizers took the decision they did for the safety and health of artists and attendees, on account of they are rational humans with an adequate sense of empathy. We can follow the #TCAF2020 hashtag to keep up with the artists and debuts that would have taken place. As for the toilet, I gotta find a hardware store that will let me buy the replacement part, so somebody start a hashtag or do a TikTok dance or something to encourage me.
But people can be resilient, and people can be kind, and people can find things to anticipate even in the drear of a months-long isolation. Some of those people are at :01 Books, and you may recall that last month they put together a series of virtual con panels called Comics Relief, which I thoroughly enjoyed diaing into.
On the off chance you missed the opportunity to attend, I am informed by :01 that the recordings for all the sessions are available at the :01 YouTube account; I particularly recommend the first and last sessions; Mark Siegel is good at fostering quality conversation. So good, that :01 have decided that one Comics Relief isn't enough; I have an email informing me that they're going to have another on 6 June, with details forthcoming. As soon as we know, you'll know.
---
Spam of the day:
Dan wrote:
Hello,

Nice website

Dan
Thanks, Dan. We're kind of fond of it. Was there something else you wanted?
_______________
¹ The fact that CALA is traditionally held in December should give one pause. Will we still be shut in by then, or merely unwilling to congregate in groups? With the way things are going, we sure as fuck won't have widespread testing and tracing by then, if ever.