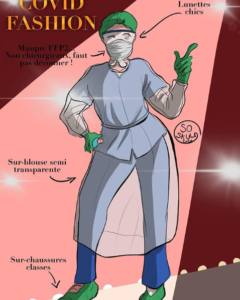 Specifically, of the second :01 Second collection of Check, Please (subtitled Stick & Scones). This wraps up Bitty's four years at Samwell, and presumably resolves the cliffhanger that Year Four, Chapter 22 (posted at noon today) has left us on. Unfortunately, the incompetent, malicious grifter in the White House has ensured that this is not a functional world, everything is disorganized, and review copies haven't made it out to everybody on :01's list because — and let me clear, this is important — people not dying is more important that me having an ARC to write about today.
So when I'm able to get a copy of Ngozi Ukazu's sure-to-be triumphant conclusion, I'll let you know. Until then, you can read very nearly the entire story online, and as a special treat we have Fleen Senior French Correspondent Pierre Lebeaupin here to tell you about what's going on Europe-ways.
_______________
I have news from the civilian zone, and news from the front.
On the civilian zone, the #coronamaison has become really big. How big, you ask?
And now for the front lines. I mentioned Solange Baudo, aka Soskuld, a few times here. She is a nurse's aide but also chronicles her work in a comics blog, starting way back from her studies. However, about five years ago she quit the hospital to get a formal training in illustration and comics with the aim to work on that full time, which she has now been doing for the past year.
Until last week. Now it's part time.
Because last week, she has again donned the safety gear and started working in a clinic for 12 hours shifts after volunteering on MedGo, as she relates in a riveting testimonial (French-only, sorry). Yes, in a COVID service near Paris, an area hard hit at the time of this writing.
Solange, we at Fleen salute you, and you can be assured that, the next time we meet, I'll have something for you. I'm thinking a cake. A big one. But the best support I can give you right now is for me to stay at home.
_______________
As always, we at Fleen are grateful for FSFCPL's observations from the heart of Europe. Rester en sécurité, mon ami.
---
Spam of the day:
Doctors can't explain why this insane method passes every lab test …
Let me stop you right there. It's because you're full of shit and there are no lab tests. Fuck off.