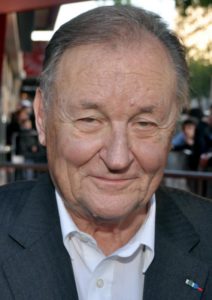 And we'll get to that in a moment. In the meantime, I trust you've seen that MICE has postponed its exhibitor registration, to be re-evaluated in June, that BOOM! Studios has made Hope Larson's first Goldie Vance graphic novel free to read, and Diamond (a blight on comics in general) has announced it's not going to be doing anything for a while. Having a monopoly on distribution in the comics direct market is an awesome idea, you guys.
That one story today, thought? We lost a giant in the world of comics. Albert Uderzo, illustrator and co-creator (with René Goscinny¹) of Astérix, died at the age of 92. It was unrelated to the current global crisis, not that there's a good time or way to die, but reports are that he died in his sleep of a heart attack after feeling tired for a couple weeks. In the grand scheme of things, I'd be happy to have that one. Fleen Senior French Correspondent Pierre Lebeapin is working on a suitable remembrance, which we will have in the next day or two.
But while Uderzo's death was unexpected, the ongoing effects of the novel coronavirus are not, and FSFCPL has some words from our European desk about how the [web]comics scene over there is reacting.
_______________
In these times of lockdown it seems that publishers left and right are dropping digital comics to read for free, but in that they are merely following in the footsteps of webcartoonists, who have already moved on from that to the next thing: creating works where you can contribute. Yes, you.
And remember: wash your hands, sneeze and cough in your elbow pit, practice social distancing, and for the Flying Spaghetti Monster's sake, stay at home. You have more than enough to keep yourself busy now.
______________
Fleen, as always, thanks M Lebeapin for his reportage.
---
Spam of the day:
It looks like you've misspelled the word "remeniscences" on your website. I thought you would like to know :)
Nobody tell her.
_______________
¹ Who died more than 40 years ago. For that matter, Uderzo retired nearly a decade ago, turning over writing and art to Jean-Yves Ferri and Didier Conrad, respectively.