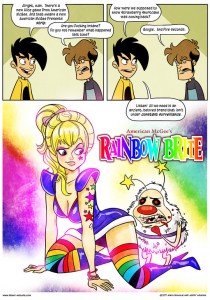 So, there's these guys, that do these things, some of which are significant. Shall we?
Box Brown is back from his honeymoon (you saw the hobo wedding pictures, right? those were great) and deep into a new project; we got to talk a bit about this back at MoCCA Fest, and I'm impressed by the scope and ambition. Let's let the guy tell you hisself:


Hey Guys I'm starting this project called @retrofitcomics. I am going to publish one comic a month for 16 months.

Expanding on those thoughts a bit, Retrofit Comics has a nice description up at its Kickstarter page:

Retrofit Comics aims to publish 16 32-page floppy-style comics by 16 of the best comic artists in the business. I am all too envious of fans of superhero-style comics. Every week they get to go into a comic shop and for a couple of bucks get some new comics to read. Alternative comic fans don't have that luxury anymore. Graphic novels have taken over the alt-comics industry as a natural progression. It's worked out well for fans and publishers, but the floppy comic has fallen by the wayside. Drawn and Quarterly, Top Shelf, and Fantagraphics used to publish lots of floppy comics but now, for a variety of reasons, they do not. Retrofit aims to highlight the importance of the floppy comic to retailers, fans, and the industry.

The floppy comic allows artists to experiment and work on comics while building an audience. Without the floppy comic (or mini-comic), the artist is forced to work on a largescale graphic novel mostly in private and then sell it. What if it doesn't sell? What if the audience isn't there? What if there are kinks that could have been worked out somehow? The artist basically has to go back to the drawing board. If there is an avenue and audience to work with, the artist can produce better and more refined work. ?

For retailers, the cheap and frequent publication of floppy comics creates an incentive for people to visit the shop on a regular basis. It can also help to bring in new readers not willing to drop $20 on a book.

For fans it means more and more frequent content!

Sounds good, as does the list of the 16 top creators that Brown has lined up, which include the likes of James Kochalka, Joe Decie, Liz Baillie, Tom Hart, Colleen Frakes, and many more. To make this happen will require US$9000, which as of this writing is not quite 1/6 of the way achieved with 40 days to go. Books will be released monthly from September, and there's an impressive list of brick-and-mortar comics shops across the country (plus Toronto, plus the UK) where they'll be available.

There's a plethora of Kickstarter pledge levels with multi-month subscriptions plus other goodies up for grabs. As a final observation, I don't have any specific knowledge to this effect, but I suspect that after a year and a half on the project, Box Brown may find that he enjoys being a publisher, and the Retrofit brand name may well get attached to other projects for the forseeable future.

Still on the "good" end of things, "Uncle"¹ Randy Milholland is celebrating seven years of independence, as it was just about this time back in the heady days of Aught-Four that he challenged readers that didn't think he provided enough unpaid entertainment to put up or shut up. Within days, his readership had contributed the equivalent of a year's salary at his soul-destroying day job, and Milholland quit to make comics.
Also to scar our psyches. Clearly, we're onto the "bad" end of things as we note that Milholland has taken something as wholesome and appealing as a swimsuit issue (for those of you that worry about objectification, Randy's always included as many exploited males as females in his sun 'n' fun extravaganzas) and turned it into something … yeah [NSFbrain]. Thanks for that, and pass the bleach.
Thoroughly on the bad side of things, Rene Engström is dealing with the screw-up of an internet domain registrar and a parasitic domain squatter:


100 sad faces. :( The redirect site anderslovesmaria.com was lost to a squatter due to a tech error during a renewal/transfer process.

If you linked to anderslovesmaria.com please update to anderslovesmaria.reneengstrom.com until, and if, I can regain control of the domain.

It's royally stupid, but if you want to starve the squatter of whatever income he might derive from parking a bunch of shady advertisements on a site that has nothing to do with Anders and Maria, please reset any bookmarks you may have. Should Engström regain her rightful home on the internets, we'll let you know.

Finally: It's been eight years, two months, and a day since the lads at Penny Arcade found out that apparently, the question of satirists (A) making fun of public figure (B) using an unrelated cultural referencepoint (C) is not a settled point in US copyright law, and sometimes you just gotta follow the takedown request. Thankfully, this being the internet and all, nobody will ever be traumatized by the P-A treatment of Strawberry Shortcake ever again.

That being said, (A) and (B) are making a return visit via (C-prime) which only means one thing: enjoy it for whatever interval it might take for Hallmark Cards to decide if they have more of a sense of humor than American Greetings².
_______________
¹ Possibly of the "creepy" variety.
² This being eight years later, what with corporations having dedicated teams watching the internet and swooping in with the proverbial quickness and DCMA boilerplate, and considering the comic in question has been up for more than twelve hours at this point, signs cautiously point to "yes".