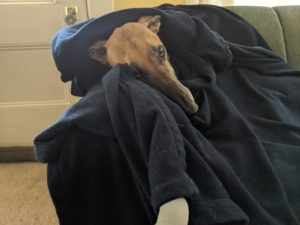 That's my dog, Thyla¹ Squirrelbane², who is normally very mellow after her breakfast, but who this morning was yipping and stomping her feet at me, demanding attention now now now now before sulking off to the couch. I couldn't figure out why she was so cranky about needing pets and scruffles and skritches when normally breakfast is followed by a hearty 3-4 hour nap, a brief stretch, and then another 3-4 hours snoozin'.
This makes it easy to work from home (lot of remote class teaches), but today she was low key demanding and vocal all through lecture, and bouncy up in my face Hi hi hi look at me look at me LOOK AT ME every break I got — which is when I normally write these posts, which is why we're late today.
Thing is, according to her registry papers — there's an extensive paper trail on retired racing greyhounds, from a 55-point physical description to verification of her ear tats — today, 24 February, is her birthday. I'd forgotten until halfway through the day, but somehow she knows and needs to have it explained why she is not being spoiled rotten³ on her Very Special Day. None of this has anything to do with webcomics, but we can always use a dog story to keep the day lighthearted, right?
Speaking of something that will lighten your heart, Magnolia Porter Siddell is having a good day, one of a string of good days for the past 10-11 months since she and Tom Siddell got hitched4. Specifically, she announced today that she and Maddi Gonzalez will be publishing an original graphic novel, Tiffany's Griffon, with :01 Books. The deets:


The book, set for 2022, is, the publisher said, "about a girl whose favorite fantasy book series comes to life, leading her to lie about her identity in order to steal the destiny of the Chosen One from a popular girl in her grade."

So teenage girl social hierarchy story à la Mean Girls, mixed with a Chosen One fantasy? That sounds brilliant, and I am entirely here for it. Congrats to Gonzalez and Porter Siddell, who will have the good fortune to be working with :01's Kiara Valdez (who's been doing good work in her time with the imprint, despite being tragically young.

And since we're here, Zach Weinersmith announced the next BAH!Fest dates in comic form today. Houston will be 7:00pm at Rice University (where Kelly Weinersmith — who will be hosting — does her teaching) on 8 March, and London will be at 7:00pm at Imperial College (where my wife did a semester abroad way back when) on 21 March. Those links will take you to ticket-purchasing options (the London show is being held adjacent to the Ig Nobel Prize recap tour), with a sliding scale for student/nonstudents/etc.
Not kidding — Thyla just harrumphed her way into the room and is giving me the stinkeye. I have to pay attention to her before she expires from lovelornness like a Dickensian character with consumption.
---
Spam of the day:
UecJtsjWFzRB wrote: zCAwIfEnrRqJNd
I affirm most solemnly, that is the actual text of a spam I got and not my dog pounding her nose on the keyboard to encourage pets. At least, it was this time.
_______________
¹ Name courtesy of Yuko Ota, who was the first to comment (when we posted pictures of her from the greyhound adoption event where we got her) that she looks like a thylacine. She's got these stripes down her tail that really do look that way.
² One so far, snagged in midair as it leapt from branch to branch. Coupla close calls with bunnies, too.
³ Or, to be fair, rottener.
4 I've never met anybody so overjoyed at the thought and reality of being married as Mags, except maybe Los Angeles resident Dave Kellett, who happens to be celebrating his 19th wedding anniversary today with his adorable wife, Gloria Calderon Kellett. Dave and Glo are awesome, and we at Fleen wish them all the happiness on their Very Special Day.