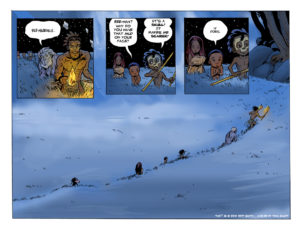 Okay, that's got nothing to do with anything today, other than I've always liked that page and hey — reee-markable.
First thing: EK Weaver has gotten a lot of notice over the years for The Less Than Epic Adventures of TJ and Amal, especially over the last year or so since it was published in omnibus form via Iron Circus and Kickstarter. I mean, hey, Eisner nom and all that. But today she's back with something that's much briefer, much rougher, and maybe much more important than TJ and Amal, being the first exploration I've seen in comics about the toll that finishing a creative project can take:


A personal, messy comic about depression + the fallout from finishing a major creative project: http://tjandamal.com/other/depressioncomic.png …

It's not pretty, it's not polished, and it's terribly, terribly valuable every time a creator that fights against the brain-lies depression shines a light on that struggle. And even when there isn't the additional burden of mental illness, it's worth remembering that creation is an act of great effort under any circumstances. To pass something out of your imagination into the wider world (particularly something with an extended, serialized existence) and then to see it end? Put another way, I don't think it's a coincidence that Gary Larson or Bill Watterson — to name just two — have withdrawn from public life (even if their works wrapped on their own terms), or that Charles Schulz couldn't live without creating Peanuts.

I think I'm probably in danger of conflating my two points here — that creation is effortful and ending it stressful, and that stress can exacerbate existing mental conditions. Schulz would absolutely be diagnosed as depressive today, but I am making no implications of such a condition in Watterson or Larson. To bring it back to my original point, Weaver's letting us in on an important set of ideas, and there's a third one there as well: that creation is itself sustaining as well as straining. Give it a read and have a bit more empathy the next time your favorite creator's a bit late with updates, yeah?

Second thing: fifty-two weeks makes a year, so it appears from the latest New York Times Best Seller List that Raina Telgemeier's Smile has now spent the equivalent of four full years on the list¹, along with a total of 149 weeks for Drama, 90 weeks for Sisters (out of 94 weeks since release!), 54 weeks for Kristy's Great Idea (I missed it's one-year anniversary, sorry), and 14 for Claudia and Mean Janine. Yep, only five spots out of ten so the cumulative total of 515 weeks is artificially low, but don't worry — Ghosts is already racking up the advance praise and we'll see the others back soon enough.
Third thing: book day! Two review copies from the wonderful Gina Gagliano at :01 Books² — the fifth in the Last Man series and the second in Gene Yang & Mike Holmes's Secret Coders series — and the second volume of Vattu from Evan Dahm (soon to be added to Dahm's TopatoCo store).
---
Spam of the day:
Free Gold IRA offer
I'm sure Ira's a nice guy and all, but I don't want him gold-plated, thanks.
______________
¹ 208 weeks out of the 332 since publication on 1 February 2010.
² Who, I see, added a new editorial assistant yesterday, increasing the staff by 25% because a remarkably small staff produces all those great books. By the way, want to feel old? Kiara Valdez, the new addition, was asked the first comic she can remember reading and replied I vaguely remember reading the 1st volume of Scott Pilgrim at the library when I was in 5th grade. I was in my mid thirties.