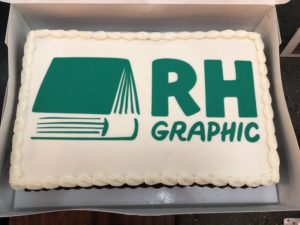 I'll leave it to the boss herself:
It turns out that sometimes if you and @ppcrotty, @WhitLeopard, @RoxieReads, and @jhautsethi work very hard, people bring you cake. Who knew?!
That from Gina Gagliano, head of Random House Graphic, at the party thrown to celebrate the first releases from the imprint, and a debut year that will see twelve graphic novels for kids released¹. She and her stalwart staff² — senior editor Whitney Leopard, designer Patrick Crotty, and publicist/marketer Nicole Valdez — talked about the books out now (and coming soon) that they really want you to know about. And since I accepted a piece of their cake, I feel like I should hold up my end of the bargain.
They're on their way. Gagliano talked about how she started in the industry fifteen years ago, how comics were regarded with suspicion but now schools and libraries are their biggest champions. There's a lot of hands out there that still haven't gotten comics, and lot of minds that still have to develop that higher level of reading, and she and her team are going to do their level best to fix that.
And yes, publishing is a very Manhattan-centric business, but the crowd was overflowing the aisles at Books Of Wonder, and not just because of the cake. There were younger folk there, mid-20s a lot of them, ready to answer that call and pitch their ideas and end up on some of those shelves. Here's to finding out what makes it there in the coming years.
---
Spam of the day:
Your regular glasses can get lost, break or your prescription can change over time, resulting in expensive trips to the optometrist!
I've been wearing glasses since I was 19, and in the 30+ years since, I have lost exactly one pair (sunglasses, on my way home from Tom Spurgeon's memorial), broken none, and yes, my prescription has changed because my eyeballs have changed. This is the definition of a straw man you're propping up here.
_______________
¹ Out of a total twenty four for Random House Children's Books. No pressure, just got to make up half the output for one of the most storied publishing imprints in history in your first year, that's all.
² Random House associate publisher Judith Haut, while not part of Gagliano's staff, is the one that decided that there needed to be a RHG and found the right person for the job.
³ Quoting Gagliano, and echoing their tagline, A graphic novel on every bookshelf. Whoever that kid is, wherever that shelf is, Leopard told us back in July, they will have at least one title that makes that kid say This is the book I was waiting for.