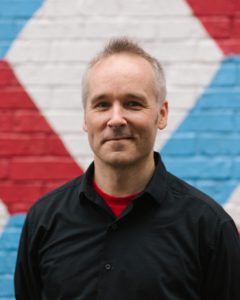 When we lost Tom Spurgeon, he left many, many holes. Holes in our hearts. Holes on the internet¹ And a great big hole in a comics show in Columbus, where he was the founding executive director. It was announced a while back that CXC would continue in 2020, no promises beyond that, but it wasn't known who would step into Spurge's shoes.
Cartoonist and educator Jerzy Drozd has been hired as interim executive director of Cartoon Crossroads Columbus (CXC), the international showcase for cartoon art that will hold its 6th annual festival Oct. 1-4.

Drozd is a cartoonist who leads workshops for children and teens in libraries and schools, and for teachers who want to bring comics to the classroom. He is a founding member of Kids Read Comics, a nonprofit that organizes the Ann Arbor Comic Arts Festival (A2CAF), and has served as its programming coordinator since 2009. He lives in central Ohio with his wife, Anne Drozd, who is the museum coordinator at the Billy Ireland Cartoon Library and Museum.
I'm not sure that there could have been a better choice than Drozd; keep in mind that interim appointments of this nature are meant to be stopgaps, warm bodies that keep things vaguely running until a real leader can be found. Drozd is far, far better than that, based on the reports I've had from A2CAF (I've not made it there myself) and his existing relationship with both CXC and the Billy Ireland.
Drozd is an accomplished cartoonist solo and in collaboration with his wife, Anne. The only not-entirely-positive thing I've ever found about Drozd is that he is partially unGoogleable because there is another Jerzy Drozd out there, a luthier of highly-regarded basses, which pushes comics!Drozd down the results. I can sympathize².
I suspect that this is one of those interim appointments that will turn into permanence some time after Drozd has a chance to show us what he can do with CXC '20. If you're going to Columbus in October, do him a favor and thank him for jumping into a giant's role under terrible circumstances; I'm sure he'd appreciate it.
---
Spam of the day:
Are you ready to do something about your achy legs?
This one's about special socks meant to help foot and leg pain. As a guy who's on his feet pretty continuously in the classroom (not to mention EMT duty), I've found the simple (and far cheaper) solution is to wear two pair of socks. Works great.
_______________
¹ For some time, his site was down; it mostly back now, thank Glob.
² Actually, I rejoice. I've met Other Gary for lunch — nice guy — and I've told him that his somewhat higher profile re: that unfortunate trombone-related incident has done a great deal to keep me off of the Big G's radar. I've done careful pruning here and there to make sure I end up further down the search listings than him (and the unfortunate murder victim), and I hope to someday be further down than the kite maker in the British midlands.