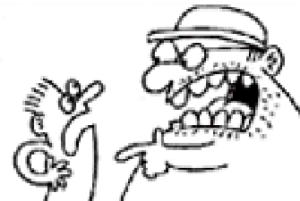 We are coming up on 15 years here at Fleen, more than 4000 posts, maybe a million and a half words, and there's times when I still feel like a brand new hobbyist. In that time there have been people that do what I do for real who have encouraged me, linked to me, directed others to me, on those occasions that warranted it let me know that I had my head up my ass, told me what I was doing was worthwhile, and generally treated me like a peer. People like Scott McCloud, Heidi MacDonald, Dirk Deppey, Brigid Alverson, Johanna Draper Carlson.
Tom Spurgeon.
For as long as I've been aware that there was such a thing as writing about comics, Tom Spurgeon was the name that came to mind. His knowledge of the medium was encyclopedic, his love of comics was infectious, and the regard in which seemingly everybody in comics held him (and which he reciprocated) was boundless. Every time I caught a backlink from The Comics Reporter felt like getting a gold star, and him thinking me knowledgeable enough to pick my brains one day (and being kind enough to make me look smart) was a personal high point.
I could never get over the fact that I'm slightly older than him, because it seemed like he must have been one of those old grey eminences to have done everything he'd done, to know everybody and everything he knew, and to have had so damn much fun at it.
He never found comics to be a chore. He never shied away from a situation that absolutely needed another 250 words to get the idea across; he never hesitated to let a post consist solely of one perfect panel and a caption. He wrote prolifically, with great insight and affection for comics and the people that made them. He did his absolute damndest to build a world where not only comics would be seen as capital-A Art, but that the people that made them would be treated well by the mechanisms we've allowed ourselves to publish them.
We only met in person for the first time this past July; I fanboyed a little and he was gracious. We didn't know each other well, and I'll always regret that I'll never have the chance to change that. But I suspect that he'd get a kick out something that ran through my head so I'll share it now:
Last night I learned that he was dead — as I imagine most of us did — from a tweet that started We lost Tom Spurgeon today and I swear to you, my first thought was How? Guy's like six-three, no way you can misplace him. The thought that I would ever live in a post-Spurge world took a little time to sink in.
We won't be without his words, thanks to Karen Green and her colleagues, but after the scheduled updates stop the world of comics will be a little smaller — there's one less giant it needs to make room for.
See you in the funny pages, Tom.
---
Spammers don't get to share the day with The Spurge.