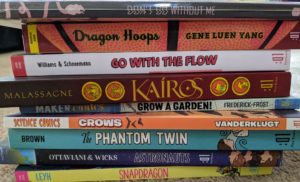 That's a big book haul. The photo was going to include a lounging greyhound for scale, some somedog decided she had better things to do than get her picture took, hmph! Starting from the top:
To be clear, it's a coincidence that Don't Go Without Me arrived on the same day as the trove of books from :01, but now I get to take it with me to the reading next week. I'll be working my way through the pile as quickly as I can while still absorbing enough to give proper reviews; it'll probably be Astronauts and Dragon Hoops first, so watch for reviews in the coming weeks
Oh, and I saw this on the tweetmachine today; it's from October, but it's very possibly new to you as it was for me. Eight tight pages, an unreliable narrator who is not having any more of this street harassment shit that we get to see past, and a satisfying gut punch of a finish. Words by Julio Anta, pictures by Katherine Lobo, letters by Hassan Otsmane-Elhaou, and if these folks aren't planning a collection of similar stories, that would be very unfortunate.
---
Spam of the day:
How a Clorox Wipe Made my Herpes Disappear
Jesus tapdancing … do not rub Clorox wipes on your junk, godsdammit.
Look, there are these sanitary wipes that we used on the ambulance for decontamination. You know what's on the top of the can? The international do not use on babies or other sensitive things symbol, that's what. Know what's not even in most of these babykiller wipes? Bleach. Use bleach wipes on hard, non-porous surfaces only and keep them the hell off of your joybits, genius.
______________
¹ No promises for the future; prostate cancer is basically the escape clause that says individuals like me will not live forever. If nothing else gets you, that walnut-sized gland will.