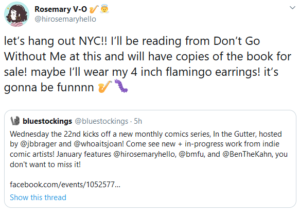 Hey, running late and sorry about that. Let's jump into the good stuff.
Item! Alex de Campi is one of the very best comics writers out there, and she has unerring instincts with respect to who to pair up with on art duties. Don't believe me? Check out her collaboration with Carla Speed McNeil and Jenn Manley Lee on No Mercy, which made me want to punch characters in the face through the page. So when de Campi tells me:


I'm doing a creator-owned horror thing with @EricaFails this year and I just have to say that 1) she's the best; 2) her colour roughs are better than most people's finished pages; and 3) this book is going to knock your socks off. The MOOD and sense of place… immaculate

I say Welp, have to add that to my pull list when it comes out. Erica Henderson has done some great work since stepping back from Squirrel Girl, with Assassin Nation particularly showing a skill for depicting charlie-foxtrot action leading to severely traumatized bodies. I also can't wait to see her FCBD contribution to Judge Dredd.

Item! Readers of this page will no doubt recognize the fact that I absolutely adore the work of Rosemary Valero-O'Connell, and take no small satisfaction in seeing the entire rest of comics recognize how very good she is since Laura Dean Keeps Breaking Up With Me released. Hooray for Rosemary!

So I'm more than happy to tell you that Valero-O'Connell will be doing a reading of her work next Wednesday night, 22 January, as part of the launch of a new monthly comics series by queer and trans creators to be held at Bluestockings Bookstore in lower Manhattan. Come say hi to all the readers, Valero-O'Connell will have copies of her latest collection for sale², and enjoy some awesome comics.

Details at the Facebook event page, and I'll be certain to keep an eye on future events — it's tough for me to get out to Brooklyn (where things of this nature usually occur) and back on a work night, and the LES is a lot closer.

Item! As you may have noticed, I now have in my possession two copies of the first print collection of Junior Scientist Power Hour by Abby Howard¹, which is one more than I reasonably need. Time for a giveaway contest. So by 11:59pm EST on Friday, 24 January, email me (that would be gary) at this here website (that would be fleen, which is a dot com) with a reference to your favorite dinosaur or other extinct critter from any of Howard's three Earth Before Us titles. I want to know which critter and why you love it so much. Random draw will determine the winner, I'll be in touch about getting it shipped to you.
---
Spam of the day:
gary.tyrrell Pay off your mortgage faster and save money!…
I am on track to pay off my mortgage ten years early but sure, I'll click on your link and give you all my financial information for the possibility of paying it off sooner. [sarcastic thumbs-up emoji]
_______________
¹ Also the original pages to The Most Precious Substance In The Cosmos. When I leave all my original comic art to my alma mater, some of it is going to cause more giggles than others.
² With luck, I'll have my copy in hand from the Kickstart by then.