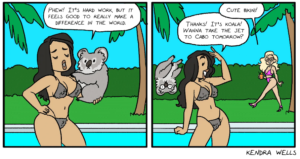 I believe that I'm on record that Kendra Wells's contributions at The Nib are rad. I was reminded of this when Wells's latest hit the web, along with a parallel thought:
Did you know that one of the reasons koalas are threatened in the wild is that they nearly all have chlamydia? And that the current bushfires hit an island that was the home of the only wild population of koalas that weren't infected?
Yeah, so that HotCelebrityInfluencer up there in the koala bikini definitely has an STI now. And somebody that's actually using influencer juice to help out with the devastation in Oz has been bounced from her social media accounts after raising more money that Bezos is donating in exchange for nudes. I'm not sure what lesson to draw from all of this but it's weird where your brain goes after seeing a cartoon sometimes.
In other news, those of you in the San Francisco Bay area will want to think about heading over to the Cartoon Art Museum this weekend, and returning until mid-May; that's because George Takei's graphic novel memoir, They Called Us Enemy — about his personal experience being imprisoned in a concentration camp by the government of his country for xenophobic reasons in defiance of Constitutional rights — is getting the featured exhibition treatment.
Once Saturday rolls around and the exhibition opens, you'll find details on the Current Exhibitions page, and once 18 May arrives and the exhibition closes you'll find it on the Past Exhibitions page. For the moment, however, you'll need to read about it here, so:
The Cartoon Art Museum, Top Shelf Productions and IDW Publishing proudly present They Called Us Enemy featuring artist Harmony Becker's artwork from the acclaimed graphic memoir written by actor, author, and activist George Takei in which Takei revisits his haunting childhood in American concentration camps, as one of 120,000 Americans imprisoned by the U.S. government during World War II. The exhibition includes an inside look at Becker's creative process, including excerpts from her reference library and never before seen preparatory illustrations.

This exhibition also features a selection of original artwork from the Cartoon Art Museum's permanent collection, including comic strips and animation from the 1940s, providing patrons with a snapshot of popular entertainment on the home front during the second World War.
Opening reception — during which there are frequently creators present, along with snacks — details to be announced, but we'll let you know when we find out. Enjoy the launch, I'd be there except I'm on the wrong side of the country and also I've got Richard Thompson tickets for Saturday; it's been more than 20 years since I've seen him live, and near as I can tell his finger have lost nothing. If you're wondering why I'm talking about a 70 year old guitar virtuoso, it's because he shares a name with multiple sadly departed cartoon/comics virtuosi. Some names are just blessed.
---
Spam of the day:
Your Wine is Cold – 15 Premium Wines for 70% off PLUS Bottle Ugly Sweater!
Not only does that topic line make zero sense, the body of the email is touting their Black Friday sale — traditionally, the day after US Thanksgiving (this year, 29 November) — but wasn't sent until 28 December. Are they trying to get me hooked for Black Friday 2020?