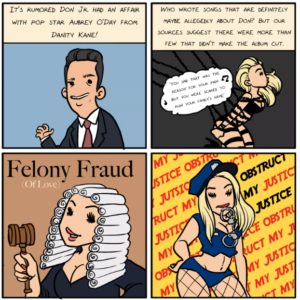 The header image is apropos of nothing, except that Kendra Wells has been killing it at The Nib lately, and that there's something refreshingly hilarious about a pop song called Obstruct My Justice.
It's spring time (the snow from the Nor'easter two days back is melting and everything!) and that means comics festival time. In case you hadn't seen, both MoCCA Fest and TCAF have new information up for your perusal.
First up: MoCCA (7 and 8 April, at the Metropolitan West event space, next to the Intrepid Museum) has schedules of events (which will take place a skant two blocks away, at the Ink 48 hotel), with six panels on Saturday and six more on Sunday.

The big draws look to be the retrospective on creating March with co-author Andrew Aydin and artist Nate Powell (Saturday at 3:30pm in the Garamond Room), the Jaime Hernandez spotlight (Sunday at 12:30pm, Garamond Room), and the Mike Mignola Q&A (3:30pm, Garamond again). It's not like what's happening in the Helvetica Room is bad, it's just these three caught my eye.

Oh, and I'm not sure if I mentioned that featured guests for MoCCA, but they include webcomicker Rebecca Mock (who also designed the badges this year) and The Nib cartoonist Ann Telnaes (who also draws for other places, like The Washington Post). Exhibitors that caught my eye include Alisa Harris (A119 A), Carey Pietsch (H255), Christian Blaza (H264), Corey Chrapuch (H230), Josh Neufeld (I270 A), Julia Gfrörer (E183 A), Ken Wong (G242), Laura Ķeniņš (E179), Madeline Zuluaga (F231), Pénélope Bagieu (no table listed, but I'll bet she's hanging out with the cool folks at :01 Books, E162), Priya Huq (H263 B), Robyn Chapman (E170), Rosemary Valero-O'Connell (J286), and Sara Varon (D155 B). Did I miss anybody? Let me know!

For those not all festival'ed out, TCAF will run 12 and 13 May, centered on the Toronto Reference Library, but spilling out into the surrounding neighborhood for a event that's become more and more citywide. They've also done us the favor of putting all their exhibitors on one fast-loading page. However, the fast-loading page doesn't allow you to click links into new tabs or copy link addresses, so there's no quick way of including websites for folks. I know, but you think I have these all memorized?

Anyways, you'll see Lucy Bellwood, Boum, Tony Breed, Vera Brosgol, Emily Carroll, Cecil Castellucci, Danielle Corsetto, Becky Dreistadt & Frank Gibson, Melanie Gillman, Sophie Goldstein, KC Green, Nicholas Gurewitch, Kori Michele Handwerker, Dustin Harbin, Myisha Haynes, Ananth Hirsh & Yuko Ota, Abby Howard, C Spike Trotman, Jeph Jacques, Shing Yin Khor, Hope Larson, Kel McDonald, Sara & Tom McHenry, Rebecca Mock, Sfé Monster, Molly Ostertag, Ben Passmore, Katie Shanahan, Whit Taylor, Jen Wang, Ron Wimberly, and the zubiquitous Jim Zub. You should be able to find their sites pretty easily.
---
Spam of the day:
Congratulations, You've Been Considered for Inclusion…
They still do Who's Who type scams? Man, that takes me back. I remember getting actual postcards back in like high school talking about the importance of being listed in such a prestigious personal branding vehicle. Got some sour news for you, Jack — you weren't getting my US$39.95¹ back then, you ain't getting squat from me now.
_______________
¹ US$95.74 in constant dollars.