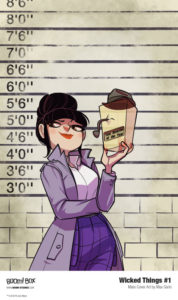 There are few people that crank out comics to the same degree as Rich Stevens; based on the very simple counter method he uses to name his strips, there are 940 strips in the current iteration of DS, and an even 4000 before the site redesign. That 940th strip is a little unusual, though, since it's from yesterday and no new 941st has appeared yet. Stevens has certainly taken a step back from M-F to M-W-F updates when he's under crunch time and/or vacation¹, but he generally lets us know what's up.
Then again, considering what's up, I'm inclined to give him a pass:
i want to name her "baby yoda" but i think i'm going to get outvoted

she's six months old. rescued out of a hoarder situation. very sweet. other doggy has to learn to be with her, but we're optimistic. this might be her first blanket. name pending.

Olive AKA Doctor Olivia AKA Princess Tapenade

thunder was anxious at first, but right now they are both mangling balls in sight of each other. thunder actually PLAYED WITH HER in the snow!

Thunder has never successfully made a dog friend to play with before today. This is a Cyber Monday MIRACLE.
Dogs are the best. That is all.
I had already started writing this post when the news broke; ordinarily, this would have been the top story, but I was too lazy to shift Rich's dog down here to the unnumbered list zone, so I'll make it up by using this one for the picture up top. New John Allison comic series, y'all! Paired up with Max Sarin again! The return of Charlotte Grote:


In March 2020, Boom! Studios debuts Wicked Things, a limited series starring teen detective Charlotte "Lottie" Grote, now an adult navigating a twisty new crime plot.

That from the inestimable Oliver Sava at The AV Club, along with an interview with Allison and Sarin, which I advise you to place directly into your veins at the first available opportunity. When Allison, et al, wrapped Giant Days, there was a possibility that some day he would revisit Tackleford and its denizens, but I hadn't expected it quite so soon, nor to feature my favorite character of his.

And, lest we forget, Giant Days started as a six-issue miniseries, expanded to twelve, and then to more than 50; Wicked Things is described as a six issue limited series, and while I will absolutely demand nothing, I can't help but notice the parallels. Lottie was last seen in June of 2018², her last year at Griswalds Grammar School destroyed by Mildred's meddling in Things That Should Not Be Meddled With. Now she's 19, university in her sights, and off to further mysteries. I am 100% here for it, and encourage you all to join me on what is sure to be a wild ride.

Longterm readers of this page may recall that despite the rise of webcomics portals, we at Fleen are strong proponents of having your own website that you control. You never know when a site you don't control will decided that every damn image in the universe is porn, pooch up its terms of service, or break everything. Every. thing:


the smackjeeves update has landed. everyone please go to https://smackjeeves.com/discover/detail?titleNo=147115&articleNo=255 and laugh hysterically

Note that as of this writing, that article is showing an error; presumably, they've yanked it down because of issues such as:

no button for "first" or "most recent" page. html stripped from page captions. no comic title at the top of the page. soulless design. no redirect to the new site from its original smackjeeves url. no easy link to the "about" section, which is crammed in a corner. hideous archive

just uses the comic cover for every page in the archive rather than a thumb of the page itself. literally no way to link outside of smackjeeves. literally nothing on the author bio other than your name and a link to your comic.

no mass editing of pages :) all previous page captions changed to comments rather than captions :)

figured out what happened to the page captions – if you had written it in the "author comment" section, it became a regular comment. if you had added alt text to the page, that is now the page caption. also captions are now max 400 characters

max width for pages seems to now be 690px

new page captions also wont allow for new lines

Y I K E S. Let this serve as your periodic reminder that nobody will ever care about your stuff more than you care about your stuff, and that the best thing you can go is — I love this — do yourself a small favour if you can and host your comic like it's 2006 again THEN cut it up and mirror it elsewhere.

And hey, not for nothing, but 2006 is probably a bit early. Pretend it's 2012, that's still before Google Reader was unceremoniously killed and we slipped into the worst timeline.
---
Spam of the day:
We buy homes 4 Cash
First, stay the hell away from my home, you freak. Second, Gmail assured me that this message was in Japanese, and when I translated, heck if cheesy clipart of a home and a stack of money being offered up in open palms didn't appear. Weird.
_______________
¹ I'm not sure he distinguishes between the two states.
² The final Bad Machinery story, Wen-Tack/The Great Unboxing, is only found at Wayback Machine; Allison hasn't included it on his main site.