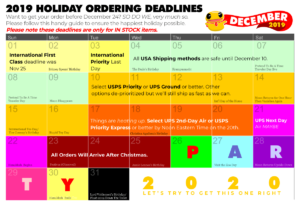 Enough so that hi, I'm here, I'm not dead. Not so much that I've got a lot for you today, but I did want to mention something that those of you that may be engaged in commerce ahead of the Solticetime holidays should find compelling. Namely, advice from the good folks at TopatoCo about how late you can order stuff and expect it to get to its destination by 24 December.
If you're overseas, you're already into the interesting times phase where mere First Class delivery is only good for another four days or so. Note that Cyber Monday (I hate that entire concept) is late this year, 2 December, by which time you are almost out of time for International Priority shipping. Naturally, anything international will also run up against whatever delays customs may impose in your country, adding time from zero days to half a year or so.
Please remember that Canada counts as international, folks.
USAians are good with anything up to 10 December, then they need to bump up to priority methods until the 16th, and then it's 2nd Day special methods until the 20th; the problem is that the 24th is a Tuesday, so not many delivery days before them in the run-up. I'd advise you try to get your mail-order shopping done by Pretend To Be A Time Traveler Day and then you won't have to stress about it.
Okay, time for the next dose of jitter-making generic knockoff DayQuil. See y'all tomorrow.
---
Spam of the day:
?????????????? who is miley cyrus dating 2017
A day ago I would have said You have vastly overestimated my interests in Miley Cyrus's dating life in 2017 and Miley Cyrus in general, but I've been listening to Dolly Parton's America, the new podcast series from Jad Abumrad¹ of Radiolab, and I learned yesterday evening that Dolly is Miley's godmother, so now I have more interest in her than I did. You can't be an uninteresting person if you've got Dolly in your life.
You have still vastly overestimated the degree to which I want to intrude into the personal life of a 24 year old woman (in 2017) who does not owe me any kind of details.
_______________
¹ Fun fact! Abumrad is a 2011 MacArthur Fellow, making him a peer of 2016 Fellow Gene Luen Yang. You can find a comics connection to anything.