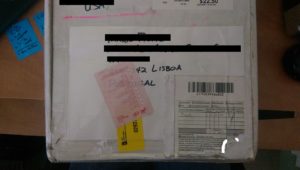 Particularly, the bit that says:
Customs policies vary wildly and unpredictably from country to country. You should contact your local customs office for further information; please do not complain to us as we have little to no control over your government's policies (for now). Customs clearance procedures can sometimes create delivery delays beyond what we originally estimate.
At least, I think that's the relevant passage. One may recall that waaaay back in May, thanks to the generosity of Los Angeles resident Dave Kellett, I was able to give away a copy of the gorgeous first hardcover collection of DRIVE. The winner, a person named Mario, happens to hail from Portugal, which meant that the arrival of the package would happen potentially never. Today, it was delivered.
To my doorstep.
That's it up at the top of the page¹. I think the stickers on the box mean that it sat at Portuguese customs until they got tired of looking at it/decided not to deliver it, and it was sent back across the ocean to me. Thanks for not stealing it, Portuguese customs/mail officials, that was very nice of you! Suggestions as to what I should do with it are now being cheerfully accepted, but I think that I am not going to try shipping it across the planet again. Mario, and I'm sorry that you didn't get the book, sorry that it cost US$22.50, 162 days, and probably 15 hours total flight time to end up back where it started. I tried hard.
I try hard, by coincidence, is how Ryan North signed my copy of Happy Dog the Happy Dog, along with a little hand-drawn doodle of T-Rex. It's adorable. It's also a segue, as I note that today is the birthday of Ryan North, and also of John Allison. Webcomics is lucky to have two such excellent gentlemen in it, and we at Fleen wish to offer the very best returns of the day to Messers Allison and North, with the expectations of many more to come.
Speaking of happy dogs, the fine folks at :01 Books have sent me a copy of the latest addition to their Science Comics series, Dogs: From Predator To Protector by Andy Hirsch.

It's a great read, and it's a heck of a way to teach tweens (and up) not only about pooches, but a goodly amount of evolution and genetics — we're talking meiosis, DNA base pairs, Punnett squares, alleles, and dominance, people. Darwin's in there, but he actually is less of a focus than Gregor Mendel and Dmitry Belyaev.

Add into that a good discussion of dog senses, dog behavior, and dog BALL! BALL! BALL! communication modes, and you've got a pretty excellent primer into what's probably the second-greatest thing accomplished by humanity as a whole³. Dogs is available at bookstores everywhere on Tuesday, 31 October.
---
Spam of the day:
GRAND_FUCK_AUTO It doesn't get more fun than this – Play Now
I don't even want to know.
_______________
¹ At last, I think it is — I haven't opened the box to see if maybe it's half a blender instead².
² I checked, not a blender. In fact, it is a copy of the DRIVE hardcover, in perfect condition.
³ I still give the #1 slot to the eradication of smallpox.