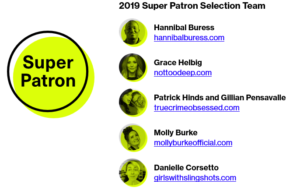 Readers of any regularity will immediately recognize that we at Fleen have been somewhat … let's say somewhere between skeptical and disappointed at some of the policy directions that Patreon has taken. That is to say, we think that the original mission of providing a tool to allow distributed funding of creative types has been co-opted by the Silicon Valley venture fund types that want their M-F'in big payout, because that's what SVvf types do. Which is not to deny the fact that Patreon has been life-changing for many creators, just that they need to decide on what and who their users are, and how they want to interact with them and friggin' stick with it.
But sometimes, radical new approaches are good:
Today, I'm launching a new thing. It's called Super Patron: A Creator Arts Endowment Fuck Yeah. It's an arts endowment for creators. The first grant is for $50,000. Anyone, anywhere in the world, can apply at http://superpatron.org. Fuck yeah. @superpatronfyea
That from Jack Conte (the non-evil Jack of SV media companies), one of the founders of Patreon. Conte's not a SVvf type, he came up as a working musician, half of Pomplamoose, who basically invented Patreon because he needed it himself. And now he's got some creative folk together (including Danielle Corsetto) to help him pick a creator to get a monthly-stipend grant to make making stuff easier. Aside from Conte being the CEO of Patreon, there's no association between it and Super Patron; it's a 501c(3) nonprofit.
I like this idea; it's similar to one that Andy McMillan (the Irish half of The Andys¹) tried to put together a couple years back². The difference being, I suppose, the capital you can bring immediately to your effort as CEO of Patreon vs a community-minded event organizer who moves from project to project. Regardless, Super Patron is probably something you should look at applying to. The odds are better than the lottery, and it doesn't cost two bucks to enter.
When you're done clicking over to try to get a chunk of that sweet, sweet grant money, there's another website you should be clicking on, and this one will cost you some money — but no more than you can afford. The case of the Indie Comics Eleven continues to drag out, despite the fact that only three defendants remain attached to the bullshit lawsuit by a terrible person. As Hazel Newlevant tweeted today, they, Whit Taylor, and Morgan Pielli are down to less than US$3000 in their legal defense fund, and their lawyer costs about US$5000 per ten hours of work.
This, of course, was the entire purpose of the suit — the plaintiff³, suffering a case of butthurt in the first degree, brought an action whose only possible outcome is to be as expensive and time-consuming as possible to those he regards as his enemies, which also serves to prevent anybody in the future from crossing him lest they also end up bankrupted. If you thinks this bullshit lawsuit is, in fact, bullshit, consider contributing anything you can afford, and also call your representatives and Senators and tell them it's well past time for there to be a federal anti-SLAPP statute.
---
Spam of the day:
How to choose your sexy Russian wife?
This sounds disturbingly like a buyer's guide, which is just icky.
_______________
¹ Who, ironically enough, were tasked by Kickstarter with engineering a Patreon killer, but couldn't make the math work sustainably.
² Disclaimer: I committed to making a significant cash contribution to McMillan's foundation, should it ever launch. Signed a piece of paper and everything.
³ He doesn't get named on my page, fuck that guy.