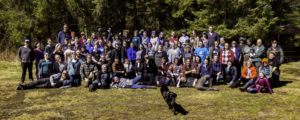 Because I've got a suggestion:
#comicscamp update, we're aiming to open applications by mid-November. If you're on our mailing list we'll ping you when it's ready. Dates are April 23-28, 2020. https://minicon.alaskarobotics.com/comics-camp/
That from Pat Race, half of the Pat & Aaron superduo, purveyors of the finest comic shop/art gallery in Alaska and possibly the Pacific Rim. Impressarios of the Alaska Robotics Mini-Con and #ComicsCamp about which I have had occasion to wax poetic for 35,000 or so words.
Pat is a good guy, is what I'm trying to convey.
Attendance at #ComicsCamp is by application and subject to a selection process, but Pat, Aaron, and the many folks that help out with the organization for a big chunk of the year have done a magnificent job of curating an attendance list that spans the entire range of backgrounds and experience levels, not to mention the entire range of adult human heights.
The location is stunningly beautiful, the camaraderie cannot be beat, the food is magnificent, and there's usually a couple of dogs hanging about. Beards are plentiful. Juneau, Alaska itself features spectacular ice cream, amazing restaurants, and is secretly run by ravens.
If you're a maker of comics, or otherwise involved in creativity on the internet¹, you should apply. With any luck, I'll see you there. Now go enjoy the weekend, and I'll see you back here on Monday.
---
Spam of the day:
Would you like thousands of visitors flocking to your website this week? People will come to your website from MAJOR online publications in your niche.
Hate to break it to you, Jason G, but I pretty much am the MAJOR online publication in my niche.
_______________
¹ Or an abettor of same, like the creative community legal services provided by Katie Lane², or my pseudojournalistic endeavours (which, let's face it, are secondary to the fact that I can keep you alive if you run afoul of a bear) (I have not had to do this yet, but I totally could if it was required).
² Light-ning Law-yer!!