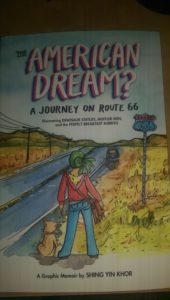 It has been a day, people. On the plus side, my copy of The American Dream? by Shing Yin Khor finally arrived, so I got that to look forward to. Let's just point you at some stuff and call it so I can get to reading. Review soon.
New Bobbins! Considering these strips take place … I'ma say 18, 19 years ago, maybe longer, they capture the current zeitgeist with amazing accuracy.
He Is A Good Boy may have finished, but you can get all the Crange you need in your life in the new single-volume collection on Kickstarter. I love that cover design; while I have been chafing for Back to return from its summer hiatus, if this is what KC Green has been spending his time on, it will have been worth it.

Anyhoo, huge book (444 pages! 8 x 11 trim size! full color!), maybe a t-shirt, stretch goals, etc. Get on that.

And about two minutes ago (as I write this), You Died finished its two week crowdfunding at US$46,505; when the FFF mk2 would have projected US$31K – US$41K or thereabouts. That's a handy exceed of the expected range, and in half the time of the usual campaign. I'll have to take that into account should there ever be a mk3.
---
Spam of the day:
[Translated from Hebrew] Could interest you in cooperation regarding the product owner
?
I dunno man, why don't you ask Screamy Orange Grandpa? Apparently he thinks he's King of the Jews and the Second Coming of God (which, one must take pains to point out, isn't recognized by Jews) while simultaneously being a huge antisemitic piece of shit. Sounds like he's credulous enough to work with you and deeply loathe you at the same time.