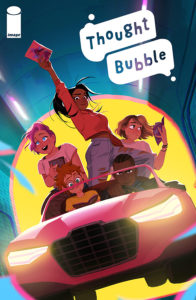 It's getting to that point in time that you look to the fall comics shows and festivals: SPX in just about a month, then NYCC (not that they do much with comics these days) about three weeks later, and then Thought Bubble about a month after that. The first two have awards associated with them (the Ignatzen at SPX, and the reconstituted Harveys — which look particularly good as noted — at NYCC), but Thought Bubble has something the others don't — an anthology that's always worth talking about.
I mean, hell, in 2016 they did a tenth anniversary volume that may be the only printed work in history whose two lead author credits are Kate Beaton and Warren Ellis¹. Sure, there were a few dozen other names on the collection, but the contrast of those two is just unreal.
TB 2019 will feature Becky Cloonan, Luke Pearson (of Hilda fame), Gerry Duggan, Abigail Jill Harding, Lee Garbett, Benji Goldsmith² Kim-joy (okay, I've only seen like one season of The Great British Bake Off, but I understand she was a runner-up in a post-Mel & Sue season), Pernille Ørum, Jock, Daniel Warren Johnson, Helen Mingjue Chen on the cover. The thing about the TB Anthology is it's always good, so even creators whose work you aren't familiar with, you'll probably enjoy. I'm not familiar with Chen, but that cover is gorgeous, and Ørum's work appears to be both beautifully composed and super cute.
The Thought Bubble Festival will take place in Yorkshire, the week of 4 November, with the comic show on the 9th and 10th. The Anthology will release on 9 October, and can be ordered from your friendly local comic shop ahead of time.
---
Spam of the day:
American Airlines wants to improve when you fly Get a voucher for helping with your valuable feedback Go Here to Fly
[14 blank lines]
This is an adv. American Airlines is not affiliated with this ad.
Why do I not trust this "voucher"?
_______________
¹ Now I want a proper collaboration between Beaton and Internet Jesus. Something even more of a pure comic book than Nextwave. I desperately want to see Beaton's rendering of a character getting kicked and then exploding.
² I'm not sure, but it might be this composer/performer?