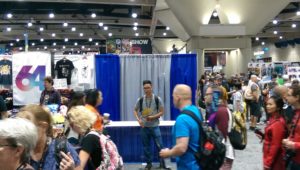 It turns out that there was nobody at the erstwhile Rooster Teeth booth to ask, the prime corner space on a major aisle now reduced to a spot to rearrange the stuff in your bags or adjust how much skin your cosplay has on display.
The rumor was — and let me be clear, this was offered by a person that came up to the Dumbrella booth and claimed to have worked with Rooster Teeth previously — is that since they got reorganized within the Warner Bros corporate structure back in December, and given that AT&T has acquired WB and doesn't seem to care much about anything other than numbers from the various creative divisions they now control, that somebody decided the booth wasn't worth time or effort on (it would have been paid for a year ago).
I may travel down to the ass end of the hall to where all things Warner Bros are situated together¹ and see if I can find any reference to Rooster Teeth, but at the moment it looks like they've gone the way of Vertigo and anything else that a suit can't see immediate, massive returns in. RIP Rooster Teeth, you were a noisy neighbor that got on my nerves more than once, but you deserved better than that.
I spent the bulk of the day engaging in commerce and treating Andy Bell like a trained monkey — more than once the cry of Artist! Sign this now! rang out and he would scurry, bent over, Sharpie in hand — in the half of the booth that isn't covered in cardboard boxes of Funko Pops and other collectible detritus. It's a living, or more precisely a place to sit and park my laptop bag in the times that I'm not at panels.
Speaking of which, I went to the Random House Graphic panel² where I ran into a very excited (not that there's any other kind) Colleen AF Venable³. There's such good stuff coming from Odd Dot in just a couple of months, folks! And Venable just saw finished pencils on a new graphic novel she's written, the concept of which is going to make you smile so hard when I can talk about it.
Later in the afternoon, I headed over to the San Diego Central Library for a discussion of comics as real reading. That one was by and for teachers and librarians, and I had a really nice talk with moderator John Shableski, who it turns out was also at the Splat! symposium all those years ago where Ted Rall pitched a wibbly fit about how unfair webcomics are. Good times. Fuller discussions of both panels will be forthcoming once I get my notes bashed into shape.
The day finished with the Scholastic/Graphix party, where I finally made the personal acquaintance of Tom Spurgeon, who had some unnecessarily nice things to say about what we're trying to do with this page. Given how long both The Spurge and I have been on our respective beats, it's a little weird we only finally made IRL contact at this late juncture, but that's the way it works sometimes. Vijaya Iyer also let me know how much I'm screwing up by not yet attending Spurgeon's annual Cartoon Crossroads Columbus; she's always been one to tell me when I've not got my shit together, and she's invariably correct4.
I got to tell Jimmy Gownley that while having my food-based regrets in the early morning hours, the thought ran through my head I am going to have a sneeze-barf incident, which he found amusing. Molly Ostertag confirmed that the forthcoming The Midwinter Witch will wrap the Witch Boy series, all the threads brought together and finished. We also talked about the Disney series she's on now, and how it is going to amaze, delight, and possibly terrify kids when it launches. She's rad. The only thing I missed out on at the party was the opportunity to tell Jon J Muth that I read Moonshadow at way too young an age and it messed me up. Then again, I would have had to admit that way too young an age was actually 28. It's a heavy read.
Pictures:
The floor was busy for much of the day in every direction you looked. It really does take close to an hour to get anywhere within the bounds of the San Diego Convention Center.
Best cosplay was a tossup; there was a really good Peter B Parker with just the right amount of stubble, but there was also a Peter B Parker with bagel in a costume group (and I loves me a good costume group) with Spider-Man Noir and Dr Olivia Octavius. The Unstoppable Airman Higgs and Princess Zeetha of Skifander dropped by the Girl Genius booth for some well-deserved accolades, there was an adorable and fully operational battle station, and a Mother of Wing-a-Ling Dragons with Burnination.
But I think top honors have to go to a family cosplay, dad and kid, of Indiana Jones Running From The Boulder. It's the Chucks on the boulder that sell it — it makes it look like a Scott C Great Showdown.
Panels to watch for:
Busy day today. Barring trubs, you'll find me at the comics based on factual stuffs discussion (10:00am, Room 32AB), the Ursula Vernon spotlight (1:30pm, Room 24ABC), the all ages comics panel (4:00pm, Room 32AB), and the best/worst manga of the year panel at 6:00pm (Room 4), plus an interview in the middle. Gonna be busy.
_______________
¹ Let's be honest, I will not.
² Sadly, Gina Gagliano's plane was severely delayed and she was possibly landing in San Diego about the time the panel started; her senior editor Whitney Leopard repped the imprint well, in conversation with NPR's Petra Mayer.
³ Venable's artist on Kiss Number 8, Ellen T Crenshaw, is up for the Russ Manning Promising Newcomer Award at the Eisners tonight.
4 When I ran into Iyer, I mentioned that immediately before leaving my hotel, I remembered the very first words she ever spoke to me — at drinks after MoCCA — the second or third year it ran, I forget which — she turned to me, tapped my badge which was still around my neck and said, You've got your dork tags on. For the record, when we met up last night, I did not have my dork tags on.