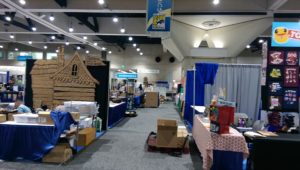 In the end, it wasn't the jet lag that defeated me, nor the enormous task of turning a massive convention center and the surround area into a geek temple in the space of a day-plus, nor the ravening crowds on Preview Night that sprint for those exclusives and limited-editions that they must have¹.
In the end, it was the simple fact that whatever age you have to be to work all day in the San Diego Convention Center, not leave until approximately 9:30pm, search for a place with food that can serve you before it closes for an hour, not see food until past 11:00pm, and then inhale a friggin' enormous French Dip and a truly prodigious amount of fries² followed fairly immediately by a brief walk to the hotel and then bed, I am no longer that age. My digestive tract spent a couple of hours in the night prompting thoughts like, When will you learn to just get a sandwich to bring with you to Preview Night, genius? and If you're going to feel this crappy in a bed, you should at least have gotten drunk for it³.
In any event, the magic happened, I got to talk some with Dave Maass from the EFF about the smart meters in the UK that spontaneously switched themselves to Welsh, with Pat Race about the mess that the new governor of Alaska has put their state in (NB: Pat & Aaron have made it to the short list for the Eisner Spirit Of Comics Retailer Award, so if you are involved in the final selection, you should vote for them because they're the best), and with Karla Pacheco about her brand new (released yesterday!) Punisher Annual #1 which involves jet skis in space.
I also got to visit the Space Gnome trading post (Earthbound representative, Shing Yin Khor, and trade a hand-written copy of my favorite poem (Litany, by Billy Collins) for an invitation to an interstellar trade guild. It's a joyous thing that Khor is doing, having certain neat little things that you can only get via trade — this year, the Gnome is accepting handwritten poems, cuttings of succulents, or (as always) a good rock — is a celebration of capital-A Art that we should all be glad of. The stuff available for sale is always beautiful, quirky, and worthy of your time and earthly currency units.
Pictures:
It's the usual, really; the organized chaos of setup looks largely the same from year to year, although this year pretty much everybody told me it went suspiciously smoothly.
The Space Gnome's wares are colorful, and what's that? Oh, yes, Khor has a book releasing in a few weeks, with a single preview copy for thumbing-through. Show that you pre-ordered it from your vendor of choice and you'll get a bookmark.
Best cosplay went to Peter B Parker, right down to the sweatpants and mismatched shoes. Only could have been better if he had a bagel or a cold slice of pizza, but hard to carry your purchases with one of those in your … wait. Computer, zoom in and enhance on sector 7G! That is the booth of Rooster Teeth, who seem to have encountered some kind of setup misfortune, in that there's nothing there. I'll hop over today to ask them what the deal is.
Panels to watch for:
Gina Gagliano will be talking about Random House Graphic at 2:00pm in Room 28DE; there will be a discussion of comics as real reading at the Library from 5:00pm.
_______________
¹ More than once, I heard people buying Andy Bell's latest toy exclaim excitedly, I have all of the color variations except ____ ! or These are my favorite! When asked if they wanted their toy signed, faces would light up and they'd ask, Could I? Only one guy answered with a shrug and a disinterested Nah, and he was carrying an actual case (like, easily 75cm on a side of cardboard) of Funko Pops. Definitely the sort that haunts Preview Night to snag up exclusives and low-volume releases for the eBay crowd. No joy for toys in his heart.
It's only Bell from Dumbrella at booth 1335 this year, but Chris Yates sent along some appropriate Bafflers!, and Rich Stevens sent along a selection of his pins. I have a supply of his various Pride-themed nerd pins for giveaway; show me a receipt that you donated any amount of money to RAICES or a similar organization and you get one.
² I just want something small and fast I'd claimed while looking over the menu. An hour ago I'd have eaten a lot but now I just want to keep it reasonable. Then I saw the mound o' food hit the table and went inhalatory on it. Good job, Gary!
³ Oddly, I don't feel that bad this morning; it was the flavor of up-all-night where you want to say I didn't sleep at all, I was just lying there awake and then you remember the quite detailed conversation you had with people who weren't there and figured you actually did sleep. That's what I'm telling myself, anyway.