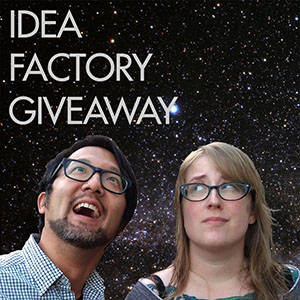 So this will perforce be on the shorter side.
Firstly, everybody in the States enjoy your day off, maybe take some time to consider what freedom in this country actually means, and if you've got fireworks in your future please be careful¹. If you wanted to watch fireworks with other comics folk, the Cartoon Art Museum in San Fancisco is hosting a viewing party.
Secondish, we'll probably see a release of San Diego Comic Con programming tomorrow or Friday; I'll be sure to bring that to you when it drops. In the meantime, may I remind you that the Will Eisner Spirit Of Comics Retailer Award nominations have been released? And that Pat Race and Aaron Suring, the generous gentlemen behind Alaska Robotics Gallery (and Juneau Mini-Con/Comics Camp, and more involvement in the arts scene of Juneau than can be recounted here) are nominees? Indeed, they're the first nominees on the page! Okay, alphabetical order and all, but I like to think it's also because they're the best.
Thirdwise, if you ever wondered what I sound like, I was on a podcast with my excellent friend Jon Ferocious J Sung² and my new friend Besha. Come listen to me achieve Peak White Guy! And if you find the discussion that Besha and I had around unfortunate medical experiences, find me in person (preferably with booze to hand) and I'll share the story that I didn't tell, of the Most Unfortunate And Embarrassing Patient Packaging Challenge Of All Time. It's a corker.
Okay, that's it. Be well, friendos.
---
Spam of the day:
Request: dazhe if you are not interested predlozhenie please pereydite the link and there "Jump to the platform," I'll be very blagodaren is my bread
I'm not sure if the translator algorithm is flaky, or if the spammers can't spell/use recognizable grammar in Russian as well as English.
_______________
¹ I'm on EMS holiday duty tomorrow night, and I'd rather not deal with anybody that's blowed up, thanks very much.
² You may remember him from such internet image searches as This party's better than it seems and God Hates Jedi. He's been a significant part of the Dumbrella at SDCC efforts until fairly recently, when he and his wife decided to reproduce themselves. Apparently carrying around a toddler in a BabyBjorn in the pathogen-rich environment of the San Diego Convention Center for four days is too big of an ask. Whatever, J.