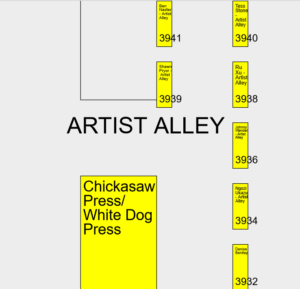 Things are afoot, my friends. They are footy. Footlike. Gotta keep on our toes.
It's been just about a year since the ALA created a new round table dedicated to graphic novels, and that means that the annual conference in Washington, DC next week will likely see a larger contingent of comics folk than in the recent past.

Taking a quick peek at the exhibitor list/floor plan, you've got Iron Circus (2108A), not far from Dark Horse (1915), and somewhere in the enormous mass of Penguin/Random House (the entire 1800-block) is Random House Graphic (Hi, Gina!). Finishing up over in the 1500-plus-or-minus zone you've got Macmillan Childrens Publishing Group (that's :01 Books and allies, 1504 & 1505), Oni Press (1519), Drawn & Quarterly (1514), BOOM! Studios (1616, and spend a little less on your damn booth so you can pay your creators). Scholastic (1232 and 1233) is off on its own, and includes the Graphix imprint, which means Raina Telgemeier, Kazu Kibuishi, Baby Sitters Club, BONE, and I don't know how many other mega-titles. Yen Press (1134) is ove there too, and I've probably missed a bunch.

But the significant thing is, about 20 aisles west of Iron Circus, I'm noting an entire section given over to graphic novels and an Artist Alley (which I think is a new development). There you'll find Ngozi Ukazu (3934), Yuko Ota & Ananth Hirsh (3936), Ru Xu (3938), Tess Stone (3940), Brian Clevinger (3951) — basically, the entire George Rohac lineup) — along with names such as Jim Rugg, Gene Ha, and Top Shelf/IDW.

It's into this new acknowledgment of the importance of comics in reading that Booklist, a publication of the ALA, will be letting everybody get back from Annual and then take a couple of weeks to sort through what they brought home before diving into a free two-part webinar on graphic novels. The first features BOOM!, Diamond distributors (ick), Image Comics, Simon & Schuster, Macmillan, and Scholastic. It'll be at 1:00pm CDT (GMT-05:00) on Tuesday, 9 July. Want to see where libraries are going with comics? Yeah, you do, because that's the first step to getting yours included.

On the far side of the continent from Washington, DC you'll find San Francisco and the Cartoon Art Museum. They'd like to remind you that one of their current exhibitions looks at teens and their teenness via the medium of comics. Specifically they'd like you to know that the selection of modern teen comics published by BOOM! Studios from the exhibition abstract includes originals from pencils to finished work:


Before and after: 'Giant Days' (@lbtreiman, @smashpansy, @badmachinery) and 'Lumberjanes' (@BrooklynAAllen, @PencilCat, @Gingerhazing, @shanito) — now featured as part of our #teenage comics retrospective. @boomstudios @Lumberjanes

Obligatory moment to note that Giant Days will be ending in just a few issues, sniff. But dang, Max Sarin can draw pretty pictures.
---
Spam of the day:
Alzheimer's!
That superfluous exclamation makes me think you're trying to reference the title of a Broadway musical. You know, Allllllllllzheimer's, where the wait what was I saying?