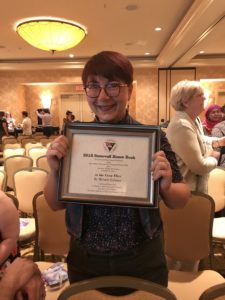 Y'know, pretty damn soon it'll be easier to talk about an area where comics — web and otherwise — and graphic novels aren't making inroads instead of those where they are. Consider:
Down New Orleans way — and I've been to NOLA in the summer, so everybody there has my sympathies — the American Library Association Annual Conference is underway, and webcomickers are all over the damn place. Just from my sosh-meeds, I've noticed Hope Larson, Rosemary Mosco, George Rohac, Ngozi Ukazu, Vera Brosgol, Raina Telgemeier, Andy Runton, Melanie Gillman, the omnipresent C Spike Trotman, and the irreplaceable Gina Gagliano.
First observation: no disrespect to Rohac and Runton, who are both outstanding dudes, but it's all well and meet that the ladies are dominating here. The books that the women present make (or facilitate the making of) are going to form the spine of a new canon.
Second observation: the universality of comics is not lost on the librarians (which, I would note, is a profession that skews heavily female), who are seeking out ways to bring comics into their collections. This year, the ALA approved the creation of a new round table dedicated to graphic novels, which is a significantly big deal.
The round tables produce research (don't ever get in the way of a group of librarians who're researching a topic) which results in best practices, standards, and guidelines for libraries everywhere. Need to figure out what to add to the stacks, how to organize it, how to get and keep the public's interest? An ALA round table has probably figured it out.
They also provide legitimacy. It is, after all, the ALA's Gay, Lesbian, Bisexual, and Transgender Round Table that convened to present the Stonewall Book Awards earlier today¹, and Gillman was on hand for As The Crow Flies to be recognized as a Stonewall Honor Book — the only graphic novel so recognized.
Being recognized for one of the big literary awards can result in a demand for thousands or even tens of thousands of copies of a book. It conveys to the larger reading world that the book and/or creator is Serious Business, and it's one of the reasons that Mark Siegel put get on the radar of the the literary awards on his to-do list when founding :01 Books. Siegel figured it would take 5-10 years, and they made it all the way to the National Book Awards 18 months later thanks to American Born Chinese by Gene Yang.
You remember Yang — two-time NBA nominee, Eisner winner, MacArthur laureate, and the fifth National Ambassador For Young People's Literature², guiding force of the Reading Without Walls challenge? Guy's probably done more to put books in the hands of kids than anybody else this side of Dolly Parton. And since he's the sort of really smart, really engaged person that you want to represent reading, it's no surprise that he's been named the newest board member of the Comic Book Legal Defense Fund:
"I'm so excited to be joining the board of the Comic Book Legal Defense Fund," Gene Yang says. "Like many people, I've found it more and more difficult to wrap my head around issues of free speech because of recent news events. However, I still believe that, to borrow a phrase from poet Liu Xiaobo, free expression is the mother of truth. The CBLDF has been at the forefront of these issues for many years now, which makes our work more important than ever."
Some of you just went to look up Liu Xiaobo, because that's what Yang does — make you go learn stuff. Between the librarians and the creators, I'm going to say that the future of reading's in good hands. Now let's everybody get out there and make sure the eyes — and minds! — are open to follow where they lead.
---
Spam of the day:
Contact me today if you are considering buying, selling, or just want to know more about market conditions in your neighborhood. [links to multiple-million dollar homes in the Greater LA area]
My home has a wall-to-wall area of 130 square meters (not including hallways, stairs, etc), and is not in West Hollywood, Beverly Hills, Santa Monica, or Los Feliz. I suspect you meant to send this to somebody very different.
_______________
¹ To be completely clear, the awards were announced in January, but were presented today at the annual conference.
² Which I believe entitles him to be addressed as His/Your Excellency.