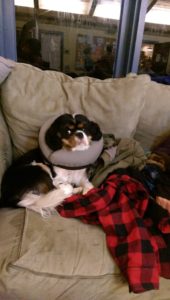 So there's still some of #ComicsCamp Monday to discuss, and it all fits a theme, even if it didn't all happen at the same time.
Kazu Kibuishi spoke about making a living at comics, and while he spoke about work process in terms similar to his public session on Saturday, it was more a conversation about finding what works for you. Remember the contrast between Kibuishi and Tillie Walden's work styles? Let's add a contradiction — in all that formal process, Kibuishi finds it helpful to draw at the speed that somebody would read the page.
Pages that are meant to make you linger and consider carefully? More time on that puppy. Middle of a fast action scene, flipping breathlessly? Speed it up. I'm tempted to call this a variation of Scott McCloud's observation that manga panels have varying levels of detail to draw your eye to what's important now (Understanding Comics, page 44 in my 25 year old copy).
Apart from that, Kibuishi shared that he's putting more thought into character designs for future series, with an eye to make cosplay cooler and easier to build¹. Oh, and there was a great digression about the benefits of drawing to Dick Dale instrumentals, both because they're super awesome, but also because of the wealth and breadth of inspirations behind them — Dale made surf guitar standards out of the Lebanese folksongs that his family taught him.
But if there was one thing that lay under Kibuishi's talk (and multiple others) it's that while he can discuss what works for him (process, satisfaction, definition of success), it's different for everybody. Remember the session back on Sunday about financial stability? After that one, posterboard-sized sheets started appearing in the main lodge, each bearing an anonymous pie chart indicating sources of income. Some of them look vaguely similar, some have scant resemblance to most others, a few are gonzo-unique outliers. But no two are the same, and arguably no one is better than any other, even if each creator who shared their experience probably wants to change some things about their balance.
Let's get back to that commonality thought for a moment — everybody's experience is in some ways similar, and in other ways utterly unique. The act of working, for most cartoonists, in isolation can make it seem even more unique, especially when the doubts kick in. But when you look at the experiences of peers, and near-peers, and will-be-peers, the journeys to finding that unique set of success conditions start to look familiar. And during the secret session, that point was made again.
I'm being coy, so forgive me. You may recall that Los Angeles resident Dave Kellett made a film about comic strips, and the transition from the newspaper page to webcomics. It's pretty neat. That movie is about 90 minutes long, and it's built from about 300 hours of interviews, including with some of the biggest names of comic strips that you love with all your heart. There's exabytes of stuff that didn't make it into the film, and LArDK shared some of it. I'm not mentioning names because while it was judged that this likely wouldn't cause the creator in question any distress, it's also not meant for mass consumption. But I will share this:
Every creator, no matter how famous, also needs to hear from time to time that their work had an impact on readers. Every creator, no matter how successful, needs that reassurance that they're doing good work.
Speaking of universality, after dinner on Monday night the question came up — in the same vein as the pie charts indicating proportions of income sources, could there be a report on the ranges of income? A bit of brainstorming among LArDK, David Malki !, and Ryan North determined there could be an income band axis, a years as a cartoonist axis, and some color coding to determine satisfaction². Brio supervised from the couch.
The survey sheet remained up until after breakfast on Tuesday morning, and people added their input. In some respects, no surprises — people at comics as career for a short period of time reported income clustered at the bottom of the range, and the top end was reserved for long-time vets. After about five years, the entire range of income was represented, and after ten years the satisfaction score was mostly positive — either because regardless of income, people found ways of working they enjoyed³, or those who weren't satisfied with comics as a career mostly self-selected out before spending a decade of their life at it.
I suspect that if you put the easel up with the same income survey today and magically gathered all the same Campers to add their responses, there would be differences up and down the sheet, of only because much of the response came as the booze table was being steadily worked down so there would be less to pack up on the morrow. For my part, I did my traditional Create A Camp-Commemorating Cocktail duty, and came up with a tasty concoction that was eventually named for Brio:
2 oz Laird's applejack
0.5 oz Aperol
0.25 oz simple syrup
0.25 oz St Germaine
dash aromatic bitters
dash citrus bitters
dash ginger bitters
Muddle one wedge of lemon and one wedge of lime to liquid ingredients. Shake over ice, strain, and drink carefully, musing on how we're all figuring out our way in the world.
Pictures:
Even if you can't see all the writing, you can probably see no two pie charts are quite like each other. Bonus views of the dioramas from Saturday night.
Income vs time vs satisfaction, with about 55% of Campers responding. Still not enough for real statistical significance, but enough to get the idea — you're not the only one trying to figure this shit out.
_______________
¹ The result, he said, of seeing an Amulet cosplayer with an intricate, complicated, difficult build of a costume and realizing that if he'd made the character a bit more work on his end, it would have made things much easier for the fan.
² I helped with the layout a little, and because I'm a stickler for such things, I asked if the income numbers were constant dollars and if they should account for US/Canadian exchange rates. However, I did not contribute data to either the income survey or the pie chart collection. For starters, my pie chart would look like a circle with one color for DAY JOB.
³ Plus, not everybody is trying to make comics their sole gig.