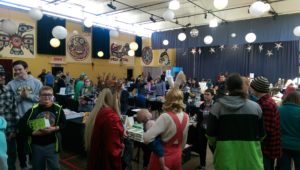 Saturday is a big day for #ComicsCamp; there's the one-day convention at the Juneau Arts & Culture Center for the people of Juneau¹ that needs to be set up, conducted, and torn down. There's hotels and accommodations to be checked out of and luggage packed. There's the travel to the campsite itself, up by Eagle Beach, and getting settled into what for many will be their third bed in 48 hours. Hopefully, there's time to eat² somewhere in the middle.
This year the Mini-Con featured signings from nine creators from the 10:00am opening until the 5:00pm closing, a board game room, children's book readings at the Juneau Public Library, and sessions at three nearby venues. In no particular order:
I want to talk about two of those at some length, partially because they were the only two I got to see in their entirety around my show volunteer gigs, and partially because they provide a study in contrasts. As such, they neatly illustrated a recurring theme explored at Camp (of which more later) that success looks different depending on who you are, where you are in your career path, and what your expectations are. No one interpretation is correct, and though there are similarities (particularly in the financial realm), every successful creative career is its own thing.
That being said, it would be difficult to find two [web]comics creators that work more differently than Kibuishi and Walden. Kibuishi is a planner — head down, work in service to a larger goal (often related to caring for others). He spent his college years as an award-winning editorial cartoonist4 and was on track to animation prize winning fame when a robbery cost him his computer and more than a year's work. He began a stint as an architectural graphic designer and helped sell billion dollar projects around the world — interesting work, to be sure, but it wasn't telling the stories that he had in him.
September 11th prompted him to quit and shift back to stories, which led to Copper, then a stint as a Creative Director at an animation studio and commercials, and then the big leagues: Disney hired him to direct the feature film Let's Get Francis.
Which you've never seen. Nobody has, because a fair amount of studio productions are made just to keep somebody else from making them, with no intention of ever being released. It's possibly in the Disney vaults somewhere, waiting to be released the week before a big-screen adaptation of Amulet, or maybe it was wiped to recycle drives like the early days of cel animation. Kibuishi didn't want to get lost in the process — after all, the first work on what became Frozen started while Walt was still alive — and so he left Disney, made a pitch around Amulet, and then it's a straight shot to today.
Well, except for that bout of meningitis that put him in a coma and gave him amnesia. The lasting effects of that were he got to read his own books and enjoy them as new things, not realizing he'd made them, and a need to be even more meticulous in his work processes than before. Oh, and the time it took him to get back to Amulet was spent painting the covers for the American editions of the Harry Potter books for their 15th anniversary.
How meticulous is his work process? He'll draw out scenes for his stories and then rearrange them until they make sense as a book. Each scene, each page will be run through an average of 5 to 7 versions before he decides he's got something he can commit to; tricky pages may take as many as 20 revisions. It's a lot of planning, years to get the book finagled the way he wants it, but it has its rewards — there's a subway station in New York City where the mosaic tile features a kid reading a copy of Amulet, which prompted a sincere Whoa when he saw it5.
Now let's talk Walden. She's 22 years old. She spent a dozen years as a competition-level figure skater, as chronicled in Spinning. Not chronicled in Spinning is the fact that art and comics were her twin brother's thing growing up, and after the usual period of time drawing comics as a young kid, she left that area of expression6 to him — she still had skating, after all, and several instruments that she plays. Comics came when she was 16 when her father signed her up for a two-day comic making workshop that possibly he wanted to attend himself.
A two-day workshop with Scott McCloud, who saw something in the non-comics-making teen and told her he was looking forward to seeing what she did (knowing McCloud, he was both a) entirely sincere, and b) actually did see something of her future success by the end of those two days). So you've got that kind of encouragement and no real skill at comics and the rational thing is to bring it out as a funny story but never do comics — but you don't have the work ethic imposed by skating coaches (one of them Russian) who would tell you things like Run and don't stop until you throw up.
So you spend your days at 16, 17, 18 doing nothing but comics. You eke your way out of high school, you talk your way into the Center For Cartoon Studies MFA program despite not having a bachelor's degree7. You put your work online and get contacted by a British publisher who prints your first three books. Then you do Spinning and On A Sunbeam and the forthcoming Are You Listening? (a comparatively brief 320 pages, compared to 400 for Spinning and 544 for Sunbeam).
So how do you create so many comics, which are so very good, so quickly, even with the single-minded devotion to work of a border collie on pure, uncut espresso? How do you deliver more than 1200 pages of comics by the age of 22, period, much less in the time since your graduation from comics school?
You do so by treating comics like jazz.
Walden works straight to ink, no designs or character studies, no extensive planning. The page gets drawn and the characters — What's her haircut? Long, because my hand's still moving! — and story reveal themselves. It's not sloppiness or haste or inattention to detail. It takes a great deal of proficiency, a great deal of discipline, a complete mastery of the fundamentals to sit at the drawing board cold and just let it all wash over you and out, the way that Coltrane or Parker or Monk could on horn or piano.
And like Coltrane or Parker or Monk, you have to be ready to deal with the consequences and imperfections: Maybe the drawing looks a little funky. I have this attitude that nothing bad will happen if I screw up. That courage leads to a deliberateness to make the story work, and also to a reality where many Tillie Walden originals simply don't exist — they're discarded when their purpose has been served. The point of Tillie Walden's comics is the process and the act of creation; the books are a product (or possibly even a byproduct) and exist for you guys.
I suspect that for both Kibuishi and Walden, Hell looks something very much like being forced into the other's creative work habits. And yet, they both fall in love with their characters, who they are, how they change, and the things that happen to them that make them different people.
And deep down, there's a reflection between them.
Walden talks and answers questions with long, arcing responses that are perfectly structured to anticipate followups and address points you didn't even realize that you were asking about, all while drawing and filling her space with whatever whim takes her8. Her lines are crisp and perfect, each one adding the precise detail needed, iterating the page through the versions of what it has been and will be9.
Kibuishi paints while he talks, off the cuff, returning to previous ideas, conversing casually, but he builds his paintings up out of abstract swathes of color, stopping before he gets too detailed. Your brain, he explains, makes this look more detailed and real when it fills in what's missing. If I kept painting this, it would look less real to you. He'll never make another painting quite like it, given how unplanned, improvised, and jazzlike it is.
Neither is correct. Neither is wrong. Neither should be emulated. Both have found ways that work for them multiple times in multiple creative arenas. Their paths to comics success have been about as different as they could be and yet I find myself willing to drop cash on an unknown book by either solely because I know that they've found the tops of their respective games in service of their stories. The differences don't matter, only the fact that they've found ways to perfect their skills.
And we get to read the comics.
Pictures:
Mostly, they're in the text above. For reference, this is what the floor looked like at opening, just a few of the 972 people that made their way over. And here's what the greater Juneau region looks like.
_______________
¹ And beyond; everybody in Alaska has a frequent flyer number, and they are used to hauling halfway across the state for something interesting. Over the years, people at the Mini-Con have identified themselves as being from Fairbanks, Homer, Anchorage, Ketchikan, and Sitka. Don't think I've spoken to anybody from the Aleutians or Nome, but it also wouldn't surprise me.
² Did I mention that there's great food in Juneau? Pretty sure I did. That includes a couple a tasty food trucks right outside the JACC, one of which does awesome steamed pork buns.
³ The two of whom were last seen together explaining the Pacheco:North Ratio of standard cow:big cow, which they demonstrated live at Camp.
The wisdom of letting Pacheco (who had for sale at her table custom hotel door hangers that on one side read Gettin' My Bone On and on the other side read Fuck Off; I meant to buy ten for random distribution on my next hotel trip but failed to do so) near youth is best debated another time.
4 Well, he kept coming in second to this one other guy, but then again that other guy just won a Pulitzer, so no shame there.
5 It's also technically a copyright violation, but Kibuishi and Scholastic decided that it can slide.
6 Which idea calls back to a question Kibuishi fielded — when asked When did you start drawing comics? he replied When did you stop?
7 Walden: Suckers!
8 Walden: I'm going to draw a house. No, a boat.
Audience member: A houseboat!
Walden: Yes! I don't know what houseboats look like, but I'm going to draw one anyway.
9 And, at the end, I'm gonna put Bart Simpson up here.