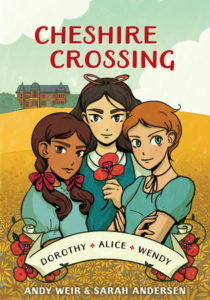 Once upon a time, there was a guy who made the webcomic Casey And Andy. Then that wrapped up and he tackled a second webcomic, Cheshire Crossing, in big occasional chunks. It was the story of what happened to Dorothy (from Kansas and Oz), Alice (from the English countryside and Wonderland), and Wendy (from London and Neverland), which is a thing that has been tackled by other famed comics writers, but this version had way less underage DP gangbangs.
Then one day he stopped updating. This was about the time he was writing a book that got made into a movie starring Matt Damon, so that turned out okay for him, but some people were wondering if he'd ever get back to his incomplete story.
COVER REVEAL! @andyweirauthor's new graphic novel Cheshire Crossing (illustrated by me!) will be on sale July 9, and available for preorder now: https://bit.ly/2GOsrig
That from Sarah Andersen, who's made quite a name for herself in comics of late¹, and although her usual style is a simple B&W scribbly line, she's capable of much more detailed and less cartoony work. So since 2017, she and the guy (okay, okay, Andy Weir) have been redoing Cheshire Crossing in Andersen's art (let's be honest, Weir's art is best described as functional; compare the original to the rework), and now it's time to print.
The advantage of being Andy Weir and a BFD with a best seller that gets made (very quickly, I'd add) into a Hollywood blockbuster is that you have an agent, and editors, and publisher and you needn't go the Kickstarter route when Penguin Random House has your back. Given the lead times in publishing, I'd guess PRH has had this contract since before Weir and Andersen started working together, and that there are likely talks in an advanced state about other forms of media to be made, perhaps awaiting only the July publication date (and the negotiations of myriad rights in the US and abroad)
Still. A big-five publisher doesn't go stomping on properties that could evoke the ire of the likes of Disney, MGM, and the Great Ormond Hospital; even given the nature of public domain, they could make trouble if they wanted. I'm guessing all Is and Ts are both dotted and crossed, and a phalanx of lawyers have crossed and dotted a few other letters for good measure.
Oh, and one more thing — 120 pages for the book? Weir did four issues averaging 24 pages; there's a good chunk of story we haven't seen and that's been waiting for a decade to be revealed. Just sayin'.
---
Spam of the day:
My name is Aly and I would like to know if you would have any interest to have your website here at fleen.com promoted as a resource on our blog
In accordance with the policy suggested by David Malki !, it will cost you fifty bucks to pitch me on your service.
_______________
¹ Her entire career has been in the time since Cheshire Crossing stopped updating, in fact.