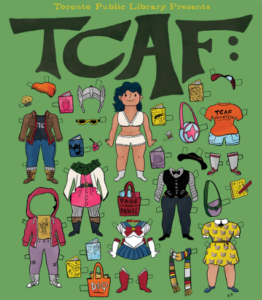 Since we spoke last week, the Toronto Comic Arts Festival has announced a slew of new guests, and I've gone through the exhibitor's list to see who-all is gonna be there. Strap in, there's a lot to see.
On the Featured International Guest list, TCAF have announced Brazilian twin superstars Gabriel Bá & Fábio Moon, Daria Bogdanska, Alexandre Clerisse, Aimee de Jongh, Keiron Gillen, Stephanie Hans, Nora Krug, and Jamie McKelvie. The Featured Kids Guests are yet to be announced (apart from the previously-announced Lucy Knisley).
Exhibitors on the floors of the TRC will include Boum, Tony Cliff, Danielle Corsetto, Evan Dahm, Blue Delliquanti, Megan Rose Gedris, Maddi Gonzalez, Meredith Gran, Mike Holmes, Kat Leyh, Sam Logan, Mike Maihack, Phil McAndrew, Rosemary Mosco, Shan Murphy, Maki Naro, Ryan North, Sarah Winifred Searle, Ben Sears, Jason Viola, EK Weaver, Alison Wilgus, David Willis, Tory Woollcott, Sophie Yanow, and the terminally-named Jim Zub¹. The list is being added to, and we'll let you know of who else we notice from time to time.
And you'll probably find more people you like by checking out the publishers who'll be on hand, including Cloudscape Comics, Creators For Creators², :01 Books, Iron Circus Comics, Koyama Press, The Nib, Oni Press, Retrofit Comics, and Shortbox³. As we get word of what creators will be with publishers, we'll let you know.
As a reminder, TCAF will take place Saturday & Sunday, 11 & 12 May, from 9:00am (Saturday)/10:00am (Sunday) until 5:00pm, at the Toronto Reference Library, 789 Yonge Street. Attendance is free to all events, but some Junji Ito events will require tickets (details TBA).
---
Spam of the day:
12,000 "Perfect" Shed Plans only for you
While I do have a moustache that, all modesty aside, is pretty impressive, I am neither Ron Swanson nor Nick Offerman. I have no use for your shed plans.
_______________
¹ Rumo[u]rs that Chip Zdarsky will sneak into TCAF to do violence upon Mr Zub so that he may be the last-named comics artist are unconfirmed at press time.
² Not really a publisher, but they'll be there and that's cool.
³ Ditto.