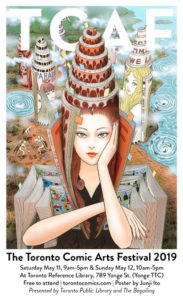 Everybody knows that TCAF is one of the highlights of the comics event year, and this year is going to be no exception. They just announced their first tranche of Featured Guests¹ for 2019, and hoo boy is it a lineup of considerable talent.
The first names to catch my eye were Lucy Knisley (whose Kid Gloves I'm presently reading, and which I'll have a review of in the near future) and Emily Carroll (whose work is always spooky in the best way, just under-your-skin-and-crawling-around dread instead of obvious jump scares). But if you're talking about scares, there's maybe one person more associated with horror comics than any other in the world, and that's Junji Ito. And wouldn't you know it, TCAF has convinced Ito to make his first North American visit, as well as to design three show posters.
The names kept rolling: Ben Passmore (whose Your Black Friend should be required reading for everybody in America age 14 and up) and Ezra Claytan Daniels, creative partners on the upcoming graphic novel BTTM FDRS, as well as indie comic legends Bill Griffith and Seth.
There's also a stack of names that are new to me, which is great because I get to learn about their work: Inés Estrada, Gord Hill, Anders Nilsen, Brian Selznik, Vivek Shraya, Ness Lee, and Mark Alan Stamaty.
And because this is TCAF, this is just the beginning; they have yet to mention their other non-North American guests, YA guests, and Kids guests.
TCAF 2019 returns to the Toronto Reference Library, 789 Yonge Street in The Big Smoke on Saturday, 11 May (9:00am to 5:00pm) and Sunday, 12 May (10:00am to 5:00pm), with a week of exhibits, performances, readings, workshops, parties, and general celebrations of the comic arts leading up to the show. As in past years, look for panel sessions to spill out to various venues around the TRL, and as always, the show is free to attend.
---
Spam of the day:
Expand Your Wi-Fi Coverage – 300Mbps Wi-Fi Range Extender
Gary, surely the spammers that sent you this aren't expecting you to believe that they can sell you a gizmo that will make your data into your house faster? Reader, that is exactly what they promise. Hook up their dealie and my fairly pathetic 7Mbps DSL will suddenly be 300Mbps. Yes, they think we're that stupid.
_______________
¹ I know that URL says 2018, but it's this year's guests, promise.