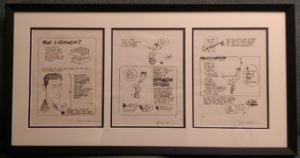 I believe that by this time, I have made the case that Larry Gonick is a national treasure. His use of comics to educate (across seemingly all fields of knowledge) is unparalleled, and if you are not familiar with the three volumes of The Cartoon History Of The Universe¹, you need to remedy that.
You may recall the word last month that Gonick was selling originals; you may also recall that he and I corresponded, seeing as how some of the few thousand pages he's drawn in his career dealt with Claude Shannon, who I may have mentioned once or twice.
It's done. The Shannon pages from The Cartoon Guide To Computer Science (sadly out of print) are now mine. They are installed on the wall over my desk, where I can feel the spirit of a playful polymath encourage me to look at problems that are interesting and solve them to the extent that the effort is both meaningful and fun.
Should you have some topic that Gonick has expounded upon that is near and dear to your heart, I encourage you to contact the man, as he is making his work available for exceedingly reasonable prices. If I were to win one of the fuck-you huge lottery jackpots this week, I'd make him an offer just to get his entire archive into Jenny Robb's hands and loving care.
But not my three Shannon pages. Those will be going to the Electrical Engineering department at my alma mater
---
Spam of the day:
I have for you a quantity of new customers . you need?
I do not. Thanks for asking.
_______________
¹ The first of which was — no kidding — edited by Jacqueline Kennedy Onasis.