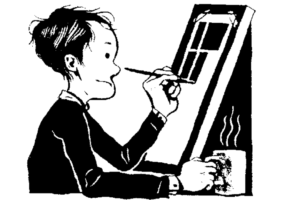 Following up on the various calls for entries yesterday, there's at least two more awards programs that incorporate webcomics in a thoughtful manner, and you may want to consider them.
The Cartoonist Studio Prize from Slate and the Center For Cartoon Studies is back for its seventh iteration, and the call for entries is open until 31 January. The CSP is fairly unique in a couple of regards — it has only two categories (Print Comic Of The Year and Web Comic Of The Year), it produces shortlists of ten works in each category, and in lieu of a statue it presents each winner with one thousand American cash smackeroos — and has remarkably few barriers to consideration.

The work must have been first published (or translated into English) in calendar year 2018, online for the web entries. That's it. Form, genre, topic, length, intended audience age, and all other artificial criteria are not considered. The only real restriction is that current faculty and students of CCS are ineligible.

Got a print comic you want to submit? The form is here [PDF]. Did your work on the web? You're gonna go here instead. The shortlists will be announced in March, and winners in April.

Also open for your entries, the Prism Awards are presented by Prism Comics, the Cartoon Art Museum, and the Queer Comics Expo¹ annually, recognizing awesome comics by queer creators/addressing queer characters and topics. There will be awards granted for Best Short Form Comic, Best Webcomic, Best Comic From A Small To Midsize Press, Best Comic From A Mainstream Publisher, and Best Comic Anthology.

Submissions must cover work made (or first published) in calendar year 2018, and not previously submitted for the award². Nominees will be announced at the Queer Comics Expo (dates TBA, but April) and awarded at SDCC in July.

While we're here, the Prism Comics Queer Press Grant (which is for two thousand American cash smackeroos) is also accepting submissions, with comics of all forms and media considered

[F]irst and foremost by artistic merit, followed by concerns such as financial need, proposal presentation, and the project's contribution to the LGBT community. The judges also lean towards projects that are more fully realized — we want to see many pages of sequential art, rather than an idea with sketches. The Queer Press Grant is awarded to an amateur artist who hasn't yet gotten a mainstream publisher. They are reviewed by the Prism Board, past recipients of the Grant and Prism's Advisory Board

The Prism Awards submission guidelines may be found here, and entries are due by 15 February. The Prism Comics Queer Press Grant process is described here, and will take submissions until 1 March.
---
Spam of the day:
Hi – I came across your website fleen.com and I wanted to see if you have 3-5 minutes to see if I can reduce your payment processing fees? Please feel free to call or email me at 866.303.2558 opt.1
Got some time to kill? Call this guy and waste some of his time.
_______________
¹ Their official site is a Tumblr, and what with the stupidity over there, it may be locked as violating guidelines since anything and everything (but especially LGBTQ everythings and anythings) are being tagged as violating the TOS.
² That seems an odd requirement, but policies of this nature are typically reactive, so somebody out there is apparently doing work in one year, publishing in another, and trying to resubmit for the award again? Lame.