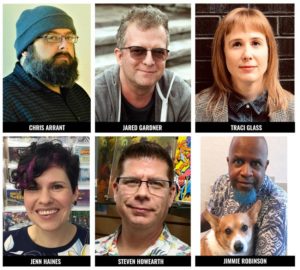 Hey there everybody, how's the first full week of the year treating you? Good, good. Gonna mention some things you might want to get in on in the immediate term.
Entries! Got a couple of things that are looking for entries at the moment!
The Eisners have just placed their call for entries, and it appears that one of this year's judges is an adorable corgi, so that's good. The rules [PDF] for webcomics/digital comics are slightly clarified, with digital defined as published online in 2018 and webcomic as long-form stories published online in 2018. I'm not sure what the line for long-form is, but that's okay — the Eisners never have been sure either. Entries close 15 March.
While we're talking awards, the NCS has also announced its call for entries for the division awards. As in past years, online comics are divided into short form (think gag panels or strips) and long form (ongoing story), and there's a new online animation category this year. Please note that the online comics require regular updates, whereas online animation may be a one-shot. It's a tight turnaround for your entries — they're due by next Tuesday, 15 January.
Not an award (at least, not yet), but Iron Circus Supreme Leader For Life C Spike Trotman is celebrating the arrival of FTL Y'All in mailboxes around the world with a call for the next anthology:


Iron Circus' latest anthology project has been REVEALED.
YOU DIED: An Anthology of the Afterlife! Submissions open FEBRUARY 1ST!
Get the details HERE. https://ironcircus.com/you-died

Let me save some of you some trouble and vicious mocking from Spike: read the submission rules. Seriously, she gets enough of these that if you decide to send something without following the guidelines, it goes out and if you bitch about her not accepting your brilliant jewel, she'll inflict emotional damage on you for being an idiot.

There's enough folk out there that can follow directions to get that US$50/page rate (plus Iron Circus's bonus structure) and the ability to buy copies for resale at a 50% discount that she doesn't need to deal with somebody that can't read and will only waste her time.
Comics! So about nine months ago, Nancy went from a moribund comic strip that primarily functioned as a vehicle for its current artist to draw Aunt Fritzi spank-bank style to the most vital comic since Cul De Sac or even Calvin & Hobbes; Olivia Jaimes is a genius¹. And credit where credit's due, Universal Feature Syndicate/Andrews McMeel is approaching the revivification of moribund strips in a big, exciting way.
Click on the link for yesterday's update of Alley-Oop and you'll get a strip that actually ran in 2013, ending on a cliffhanger. Follow the link for today's update of Alley-Oop and it's one panel and an entire creative team later — it's the promised relaunch with writing by Joey Allison Sayers and art by Jonathan Lemon, a pair of webcomickers who show every promise of being able to do for the Oopster what Jaimes did for Nancy. I'm calling it now: Alley-Oop is (or will be) lit.
Too many people slept on the Nancy creator shift; now is your chance to get in on what looks like a back to the very beginnings reboot of Alley-Oop (it's strongly implied that most of the strip's 86 year history was — like Bobby Ewing in the shower — just a dream). Plus it looks like Lemon signs his work with a little lemon with a face on it, and I declare this to be ACCEPTABLE.
---
Spam of the day:
Me now can last at least 2. 5 hrs and leave their partners please Watch this amazing 2 minute trick that 'Kills' ED, leavings your girl satisfied
I am not sure which language the person who wrote this original spoke, but I bet they don't speak it very well.
_______________
¹ Note to self — set odds on Jaimes a) being nominated for the NCS newspaper strip division award, b) winning it, and c) taking the Reuben Award itself, further cementing Stephan Pastis as the Susan Lucci of the cartooning world.